One of the sectors that investor can consider investing in is the auto parts sector. Parts suppliers supply all the parts needed in building an automobile. In addition, many also supply the multitude of bells and whistles that go into a car. For example, the latest car models have wifi connectivity for internet access and a cool dashboard. Firms that produce the produce these items offer strong growth potential. In fact, one of my long-held view is that to profit from the continued growth in automative industry, investors must invest in parts suppliers instead of the auto makers. During the California gold rush of the 19th century, people that sold the picks and shovels to the gold mines became wealthy than the miners. This is because very few miners that dug a hole actually found gold. A similar logic can be applied to the auto components makers.
I have written on this topic a few times before. A recent article in the journal noted that auto parts suppliers are a better bet to gain from the growth of electric vehicles. From the article:
The biggest winners of the postrecession car boom haven't been car companies but their suppliers. This is one feature of the automotive landscape the emergence of electric vehicles seems unlikely to disrupt. Suppliers with the right technology are worth their big stock-market premium.

Cars have absorbed more and more gadgets over the past decade, both to woo consumers and improve engine efficiency for regulators. But they haven't become more expensive. This alchemy has been made possible by a symbiotic relationship between car makers and big suppliers. Car makers have bought more and more components from the biggest suppliers—the likes of Delphi Automotive, Continental and Valeo—in exchange for continual price cuts.

This dynamic has worked out best for suppliers, whose shares have outperformed those of car companies by almost a half over the past five years. The value of the content per vehicle provided by the top four listed suppliers has risen by over 4% annually for the last three years, despite continual price cuts, calculates brokerage Evercore ISI. That has made for strong top-line growth as car manufacturers have benefited from several years of solid sales.
In terms of total returns over five years, suppliers beat car makers by a wide margin:
Click to enlarge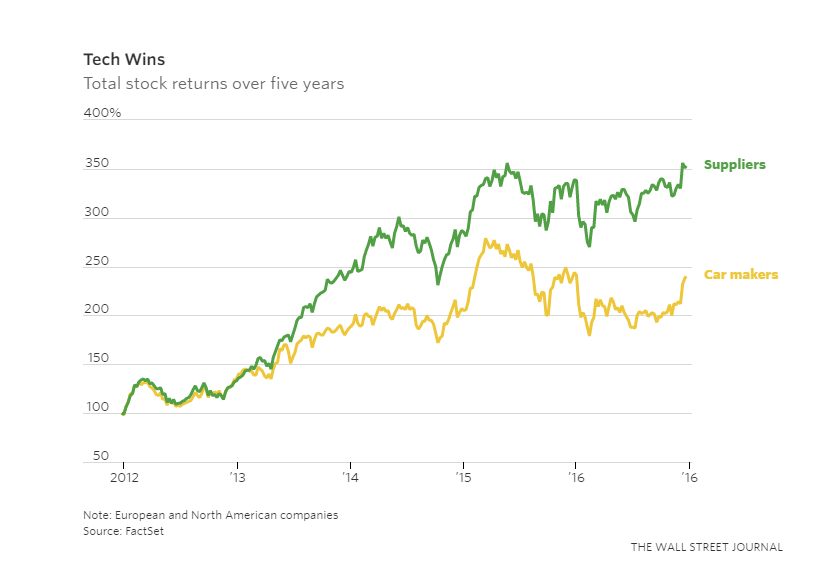 The forward P/E ratio for suppliers is also much higher than car makers as investors are putting a premium on suppliers' growth prospects: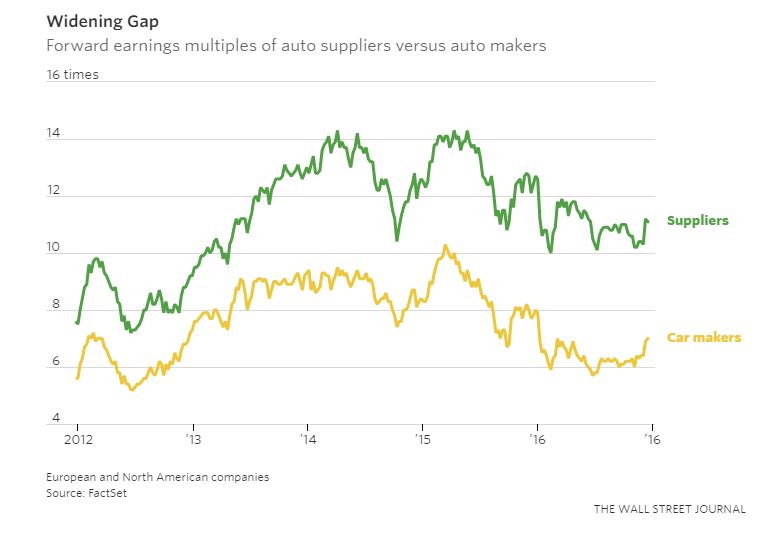 Source: Auto Suppliers May Be the Real Winners as Cars Electrify, WSJ, Dec 21, 2016
Four reasons why auto parts suppliers offer good investment opportunities are:
The price of a new car continues to go up every year. Much of the new cost is for the additional gadgets built in the car. The average price of a new car sold in July, 2016 was over $34,000.
Similar to beer and liquor companies, auto parts makers flourish during good times and bad. During economic expansions, consumers feel confident. So they sell their beat-up cars and buy more new and expensive cars. During recessions, consumers tend to hold onto their vehicles for longer time. In order to maintain their cars, they buy more parts as wear and tear takes a toll on their cars.
Parts suppliers continue to evolve and adapt to changing market needs. They have invested heavily in building new technology products like smart dashboards, GPS, wifi link-enabled devices, addition of built-in internet apps, sensor technology, self-driving capability, etc.
Unlike the big auto-makers parts suppliers do not have any legacy issues like health care costs of retirees, pensions. etc.
Some of the foreign auto parts suppliers to consider include: Autoliv Inc (ALV), Continental AG (CTTAY), Magna International Inc (MGA) and Valeo SA (VLEEY).
US-based auto parts makers include: include Johnson Controls, Inc.(JCI), Genuine Parts Company (GPC), AutoZone, Inc.(AZO),  Lear Corp (LEA), Visteon Corp (VC), etc.
The full list of auto parts suppliers trading on the NYSE and NASDAQ can be found here and here.
Related articles:
Disclosure: Long CTTAY and MGA