The automotive industry is one of the largest industries in the U.S. It can be considered as the second largest industry after the real estate industry. The U.S. government considers the auto industry to be highly important for the country even going to the extent of bailing out the industry a few years ago.
Some interesting facts on the U.S. auto industry are listed below:
In January 2014, auto makers employed over 844,000 workers.

Automobile dealers and parts sellers in the retail trade employed over 2.9 million workers.

The U.S. is home to 13 auto makers . 

Honda, General Motors, Ford, Chrysler,Toyota, Nissan, Hyundai-Kia, BMW, Daimler, Mazda, Mitsubishi, Subaru, Volkswagen all have manufacturing facilities in the country.

In 2011, the industry accounted for between 4% to 5% of GDP.

Auto suppliers produced goods worth $171 billion in 2011 accounting for about 3% of U.S. total manufacturing.

Many of the biggest U.S. firms such as I

BM, GE, HP, Dow, Microsoft, Intel and Oracle 

depend on the auto industry with half the companies in the Dow Jones Index depending on the industry for revenue.

20 U.S. states have more than 100,000 auto jobs and 47 states have more than 10,000 auto-related jobs.

According to the industry association, 8 million Americans and their families depend on the auto industry for their livelihoods.
From a global perspective also, the auto industry is significant for economic growth. Outside of the U.S., all the other major economies of the world including Canada, India, China, Brazil, Germany, Japan have big auto industries. In fact, of the G-20 countries, only Saudi Arabia does not have automobile production  according to industry data.
Sources:  U.S. Department of Labor, U.S. Commerce Department, Auto Alliance
Investing in auto sector stocks is a wise move given the details noted above. However instead of investing in auto makers investors are better off going with auto parts makers for a many reasons. Like the old story about getting rich by selling picks and shovels during a gold rush, auto parts makers offer attractive opportunities to profit from the boom in the auto industry.
Five reasons to invest in stocks of Auto Parts Makers are listed below:
1. Auto sales has been rising globally since the dark days of the financial crisis. In the U.S. auto sales has rebounded strongly since 2008-09. The following chart shows stable to rising car and light truck sales since 2012:
Click to enlarge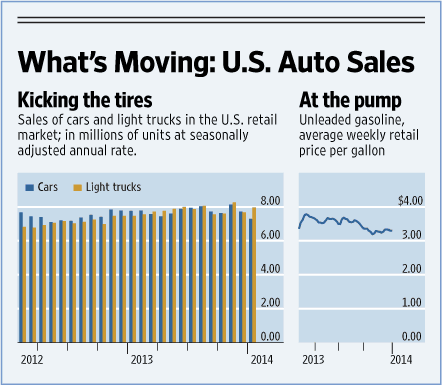 Source: Market Data Center, The Wall Street Journal
The graph below shows the yearly change in light vehicle sales from 2009 to 2012: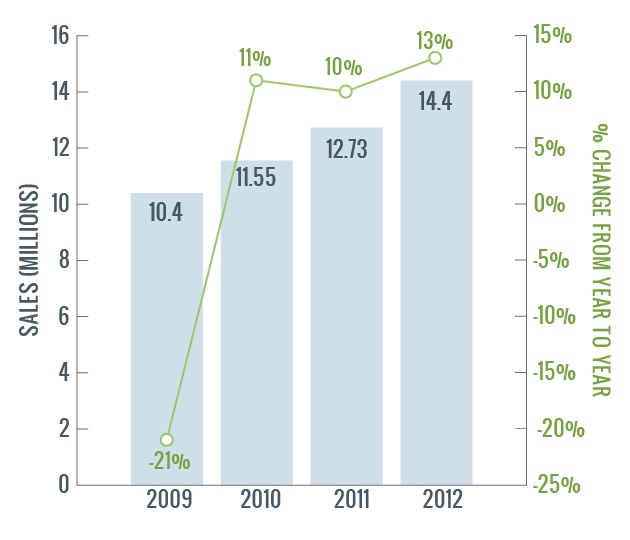 Source: Auto Alliance
Automakers are expected to announce February sales figures on March 3rd. But according to estimates by Cars.com, the February sales is projected to be up by 1.1% over the same month last year making it the best February sales since 2008.
2.Lending for auto loans by banks and finance companies have increased in recent years. With the economy recovering auto lending should increase further. Auto lending and auto sales are highly correlated since most folks buy cars on loans. In fact, even subprime lending standards are projected to decline this year leading to higher auto sales.Lenders are able to take advantage of ultra-low interest rates despite higher than normal default rates.
3. The majority of Americans depend on autos for transportation. While public transportation is good in bigger cities such as New York, DC, Chicago, etc. in other cities and towns across the land public transportation is virtually non-existent. In rural areas there is no public transportation at all. Hence autos will not disappear any time soon and will be the main mode of transportation for the foreseeable future in this country.
4. The transportation infrastructure in the country is simply built for autos. The interstate highway system, the hotel industry, the fast food industry, the malls, the ubiquitous suburbs in every city are all built around cars. Public policy and government investments also favor the continued dominance of the car industry. Even during the height of the great recession billions of state funds were spent on highway development, maintenance and expansions and not on alternative means of transportation such as building subway systems, trams, trains, etc.
5.Unlike the auto makers, auto parts makers do not have worry about many issues such as giving heavy discounts to push their products, having to deal with legacy costs such as healthcare and pension costs for retirees, constantly having to  invest in research and development, the need to introduce new models  every year, etc. In addition, replacement parts are bought by existing auto owners as well and hence the parts makers do not necessarily have to entirely depend on new auto sales for growth.
Five foreign auto parts makers are listed below for further research:
1.Company: Valeo SA (VLEEY)
Current Dividend Yield: 1.40%
Country: France
The second largest French auto-parts maker recently reported strong second half-earnings due to rising demand in China and North America. The company's stock has more than doubled in the past 12 months.
2.Company: Magna International Inc (MGA)
Current Dividend Yield: 1.47%
Country: Canada
Magna is the world's second largest diversified auto-parts maker.
3.Company: Denso (DNZOY)
Current Dividend Yield: 1.30%
Country: Japan
Rising U.S. auto sales is benefiting Japanese auto parts makers according to a Bloomberg news report last month. Denso is the world's biggest diversified auto-parts maker based on sales.
4.Company: Continental AG (CTTAY)
Current Dividend Yield: 1.20%
Country: Germany
5.Company: Autoliv Inc (ALV)
Current Dividend Yield: 2.16%
Country: Sweden
Note: Dividend yields noted above are as of  Feb 28, 2014. Data is known to be accurate from sources  used. Please use your own due diligence before making any investment decisions.
Disclosure: Long DNZOY