German auto-parts maker ZF Friedrichshafen AG announced a bid to acquire US-based TRW Automotive Holdings Corp. (TRW) in a deal worth $12.0 billion last month. However the deal is being held due to the German firm's negotiations with Robert Bosch GmbH, Germany's largest auto-parts manufacturer, to exit a joint venture according to a recent report by Bloomberg. The merger of ZF and TRW would create the world's second largest auto-parts company by sales just behind Stuttgart-based Bosch.
TRW is a major leader in car-safety technology while ZF is a top maker of transmissions, steering systems, clutches and axles.
In an article this week The Wall Street Journal reported that M&A deals in this sector could increase as other companies look for deals. From the article:
In a study to be published later this month, PricewaterhouseCoopers LLP will report that while deal sizes are shrinking slightly, far more transactions are getting done and that trend is expected to accelerate in 2014. European suppliers, are showing renewed vigor amid rising sales in their core markets, and Chinese suppliers—spending the most on R&D and growing fastest—are consistent drivers of deal activity.

Private-equity firms, meanwhile, remain active suitors (the biggest in 2014 was the purchase of Gates Corp. by Blackstone Group for $5.4 billion).

ZF's deal is expected to further boost the appetite for strategic deals. In a note to investors, Morgan Stanley auto analyst Adam Jonas said certain suppliers "should prioritize and aggressively pursue acquisitions, especially in light of a potential TRW+ZF combination."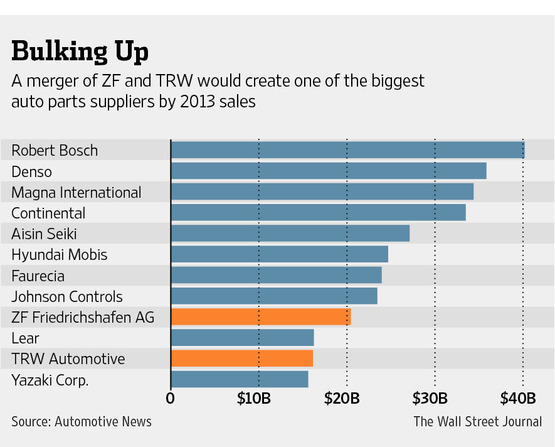 Source: Auto-Parts Giants Hunt for Mergers, The Wall Street Journal, Aug 13, 2014
The top twelve global auto-parts makers by sales shown in the above chart are listed below with their ADR ticker, if available and current dividend yield:
1. Robert Bosch
Country: Germany
2. Company: Denso (DNZOY)
Current Dividend Yield:  1.30%
Country: Japan
3.Company: Magna International Inc (MGA)
Current Dividend Yield: 1.36%
Country: Canada
4.Company: Continental AG (CTTAY)
Current Dividend Yield: 1.68%
Country: Germany
5.Company: Aisin Seiki (ASEKY)
Current Dividend Yield: N/A
Country: Japan
6.Company: Hyundai Mobis 
Country: South Korea
7.Company: Faurecia (FURCY)
Current Dividend Yield: N/A
Country: France
8.Company: Johnson Controls, Inc.(JCI)
Current Dividend Yield: 1.86%
Country: USA
9.Company: ZF Friedrichshafen AG
Country: Germany
10.Company: Lear (LEA)
Current Dividend Yield: 0.82%
Country: USA
11. Company: TRW Automotive Holdings Corp. (TRW)
Current Dividend Yield: No Regular Dividends paid
Country: USA
12. Company: Yazaki Corp
Country: Japan
Some of the other US-based auto-parts suppliers are Johnson Controls, Inc.(JCI), O'Reilly Automotive Inc (ORLY) and Genuine Parts Company (GPC).
Note: Dividend yields noted above are as of Aug 15, 2014. Data is known to be accurate from sources used.Please use your own due diligence before making any investment decisions.
Disclosure: DNZOY, CTTAY