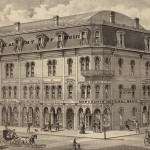 The Bank Director magazine has published the Bank Performance Scorecard ranking the top 150 banks among the publicly-listed banks based on 2010 earnings data. The scorecard analyzed banks in three critical areas: profitability, capital and asset quality.
From the Bank Director report:
The Scorecard uses two standard measurements of profitability, return on average assets (ROAA) and return on average equity (ROAE). Unlike past rankings, this year's Scorecard uses only one measurement of capital—the ratio of tangible common equity (TCE) to tangible assets—in recognition of how important that metric has become as federal bank regulators pressure banks to significantly boost their levels of common equity. Tangible common equity is defined as a company's GAAP book value minus goodwill and other intangibles. It is, in other words, the actual hard dollar amount of common equity that a company has available to it.

Asset quality is also critically important since lending is the banking industry's bread-and-butter business, and this is gauged using two metrics—the ratio of non-performing assets (NPAs) to loans and other real estate owned, and the ratio of net charge offs (NCOs) to average loans.

Banks that place high on the Scorecard generally do well in all three areas, rather than dominating a single area. As capital ratios have increased in recent years, the interplay between capitalization and profitability is especially telling. A bank that scores well on the two profitability metrics in part because it has leveraged its capital could end up with a lower overall score than a bank that has a higher level of profitability and higher capital.
The Top 10 banks are listed below together with their current dividend yields:
[TABLE=1030]
Source: Bank Director
The winner of this year's ranking is Macon, Georgia-based State Bank Financial Corp (STBZ). The bank took advantage of the depressed banking market in Georgia by acquiring Security Bank Corp, a failed institution in the local region. Abilene, Texas-based First Financial Bankshares Inc (FFIN) took the second place this year. In November last year, First Financial acquired Sam Houston Financial Corp., a $163-million-asset bank in Huntsville, Texas, for $22.2 million. Charleston, West Virginia-based City Holding Company (CHCO) came in at third place since the bank faced lesser competition in the home market and the real-estate portfolio remained strong as the housing market did not over inflate during the bubble years.  In addition the bank is extremely well positioned in the local community with an average of 2,200 households per branch compared to an industry average of 1,200.
The rest of the Top 150 banks are listed in the screenshots below:
Click to enlarge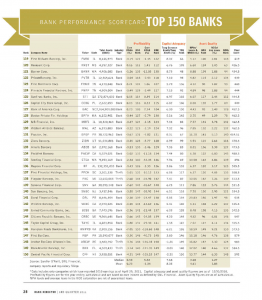 Since hundreds of bank stocks trade on the US markets and it is a very difficult sector to evaluate now, investors looking to bank stocks to their portfolios can use the above list as a starting point for further research.
Disclosure: Long GBCI, FBP, DRL, FITB, BBT, PNC, USB, UBSH