The BankDirector magazine published its 2022 ranking of the best banks in the US under many categories. One of the categories we will look into this in this post is "The Best Emerging Regional Banks". The banks in the category have assets in the range of $15 – $50 Billion. Since there are thousands of banks in the country and hundreds of them trade on the public markets, investors can use this list as a starting point for further research.
BankDirector selected the banks using various metrics. Below is an excerpt from the study:
To determine the top 10 in each category, we calculated a profitability score based on return on average assets (ROAA) and return on average equity (ROAE) as of year-end 2020. We also looked at year-over-year growth in pre-provision net revenue (PPNR) from 2019 to 2020, as well as absolute PPNR as of year-end 2020. Credit quality was also examined, based on net charge offs and nonperforming loans as a percentage of total loans for 2020. To award building shareholder value, we included five-year total shareholder return from 2015 to 2020. All of these factors were ranked and then averaged — with profitability receiving a double weight — to develop a score.
The Best Emerging Regional Banks:
Click to enlarge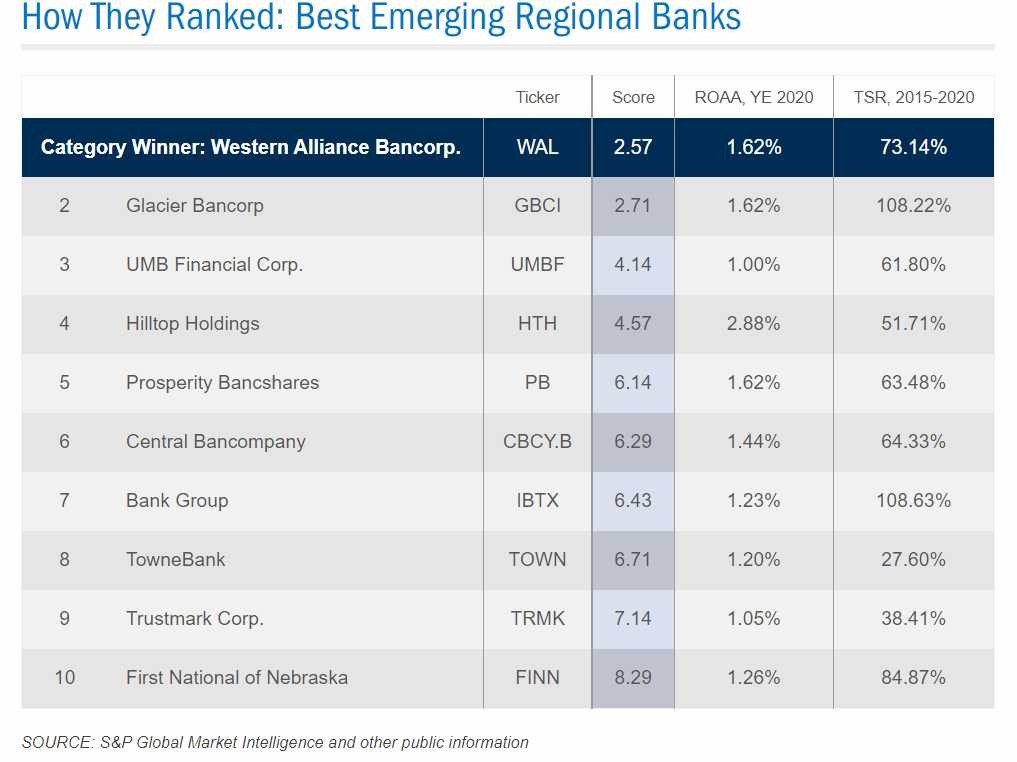 Source: RankingBanking, Bank Director
The top ranked Emerging Regional Bank is Arizona-based Western Alliance Bancorp (WAL). The second best bank is Glacier Bancorp (GBCI). Based in the Montana, the bank has operations in eight western states – Washington, Idaho, Wyoming, Colorado, Nevada, Utah, Arizona and Montana. Last year Glacier Bank moved from trading on the NASDAQ to the NYSE.
Disclosure: Long GBCI