South Korea used to be one of the unattractive markets for dividend investors due to the low payouts by Korean firms. I have written about the low payouts in a few article before like here and here. In those articles I had suggested that income investors can avoid Korea. However decades of low payouts may be coming to an end as companies are paying out more of their earnings to shareholders due to tax and political reforms. As a result, Korea has become the top country in dividend growth rate for 2018-19 as shown in the chart below:
Click to enlarge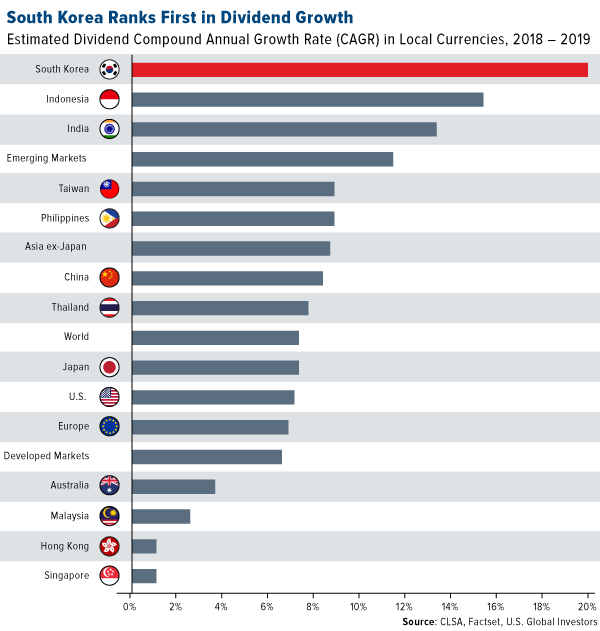 Source: South Korea Courts Investors with Unbelievable Payouts by Frank Holmes, U.S. Global Investors
From the above article:
South Korea is very attractive right now, with stocks trading at cheap valuation multiples relative to those in neighboring countries. Gross domestic product (GDP) growth remains robust, rising 2.8 percent in the first quarter.

The Korean market has a reputation for having a low payout ratio, despite many of its multinationals being flush with cash, but that looks set to change. Pressured by the government to do more to attract and keep foreign investors, the countries' top 10 firms paid out a record 7 trillion won, or $6.46 billion, to offshore investors last year. Samsung Group ranked first, its payouts rising a massive 45.6 from the previous year to total 3.91 trillion won.

According to CLSA estimates, based on FactSet data, Korea tops the list for dividend growth this year and next. The investment bank is looking for a 20 percent compound annual growth rate (CAGR), which would be a huge improvement over other markets around the globe.
Related ETF:
iShares MSCI South Korea Capped ETF (EWY)
Disclosure: No Positions