Disruption of incumbent businesses or entire industries is the latest strategy sweeping Silicon Valley. Thousands of young and highly educated professionals working in the startup world are finding ways to do things efficiently and cheaply. For example, Uber and Airbnb are examples of two disruptors that have cracked the taxi and hotel industries respectively. For ages local taxi companies were oligopolies in the regions they operated that resisted change and charged very high rates for consumers. Unable to find alternatives consumers were forced to pay up. Then came Uber and changed the whole game for the once omni-potent and politically well connected taxi industry.
While in the past it took many years to disrupt industries these days the number of years has declined. Powered by limitless venture capital and technological advances thousands of startup firms are working to shake up not just certain companies but entire industries. The following chart shows the number of years it took to disrupt incumbent businesses:
Click to enlarge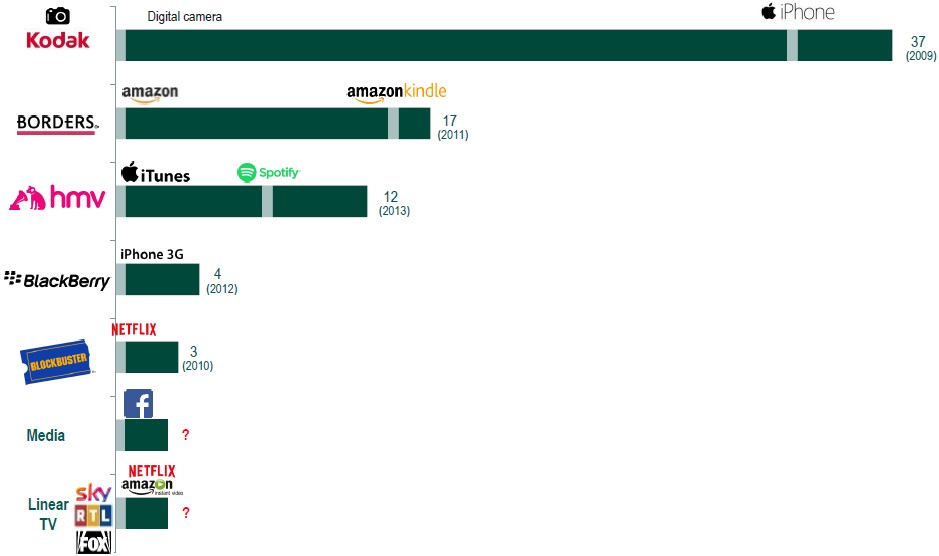 Source: Are Robots Disruptive? … or could they be the saving grace for ageing societies?, July 2017, The Absolute Return Letter, Absolute Return Partners
Since disruption can crush incumbent companies to go out of business investors have to decide which sectors to avoid and which sectors to invest in. This is especially important for growth-oriented long-term investors. Two industries that will struggle moving forward are the media and advertising industries as digital companies uproot their dominance with better products and reach for every ad dollars spent by advertisers.
Despite the threat of disruption, certain sectors or sub-sectors of industries are difficult to be disrupted. Hence they offer investment opportunities. In a recent article, Sammy Suzuki, Kent Hargis, Chris Marx of Alliance Bernstein identified pockets of sectors that investors can research for potential growth stocks. From the article:
#1: AMAZON WILL RULE ALL RETAIL

Amazon has built a near-indomitable shopping machine, with its recent $13.7 billion takeover bid for Whole Foods marking its latest foray. It's not hard to imagine this e-commerce behemoth taking over all retail itself.

But, while in-store traffic is declining, there are certain items consumers still prefer to buy in a physical store (Display). Off-price apparel and home-goods chains, auto-parts retailers, and sellers of items such as men's suits and luxury goods are holding up well amid the retail gloom. They've crafted business strategies focused on personalized services and encouraging customer loyalty and frequent store visits.

Examples include off-price apparel retailers, which lure shoppers to their doors by offering ever-changing, limited-lot designer-brand assortments and a treasure hunt appeal. Auto-parts stores benefit from an aging car fleet and do-it-yourselfers who don't have time to spare when making repairs and want to talk to someone knowledgeable if they have questions.

Another takeaway: consumers are buying experiences over stuff. That insight inspired makeovers at some restaurant chains and the major US movie-theater chains, which have buoyed attendance and profits with upgrades such as cushy recliner seating; premium concession items, including alcohol; and alternative content, such as live events and classic films on slow nights.
Source: Defying Disruption: Three Ways to Profit, June 26, 2017, Alliance Bernstein
Some of the companies in the sectors identified above are listed below:
The key takeaway is that not all industries will be disrupted and that consumers will order everything they need online. So investors can still find excellent companies to invest in for the future. A few of such companies are listed above.
Disclosure: No Positions