The contribution of dividends to total returns is significant. In decades when stocks yielded negative returns the return from dividends offer a cushion to the overall portfolio returns.
The chart below shows the contribution of dividends to the total return of the S&P 500 by decade:
Click to enlarge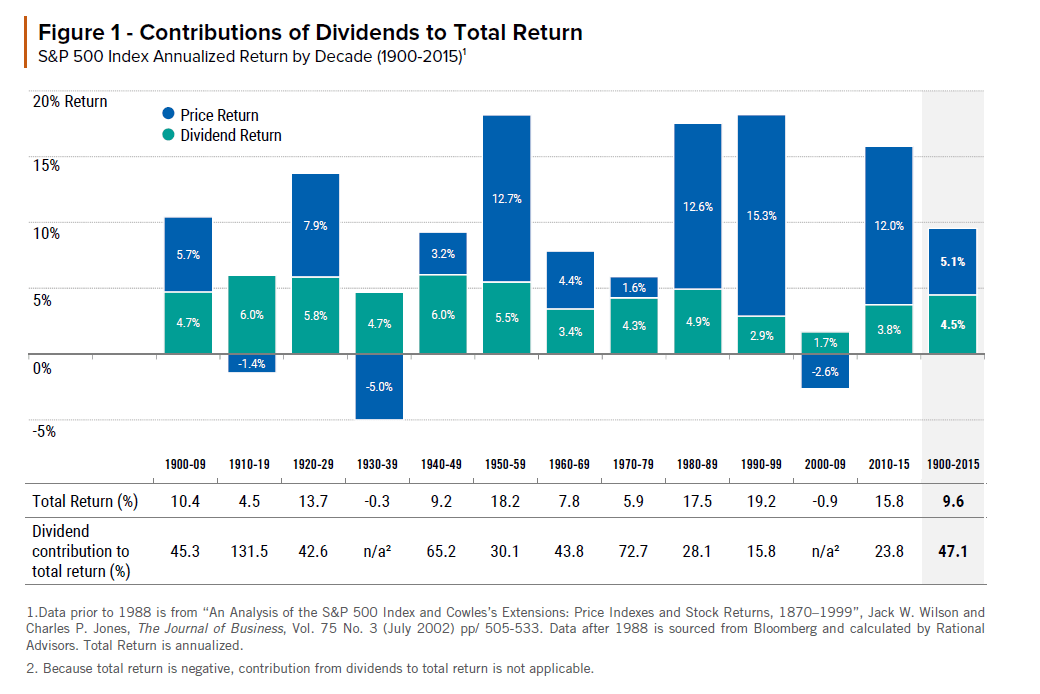 Source: Dividends Matter, Rational Advisors
From the above research report:
Historical Perspective

Throughout the majority of the 20th century, income generation was the primary focus for most equity investors. With accounting standards and regulatory oversight a far cry from where it is today, a stock's dividend was one of the few reliable measures by which investors could determine the health of public companies. While recent equity bull markets gave some credence to the notion that growth was perhaps superior to income, recent market declines should have reminded investors that a focus on both income and capital appreciation is a better approach to generating stable returns.

This premise is supported by the fact that over the long term, dividends have proven to be a meaningful source of stockmarket returns. Since 1900 through the end of 2015, dividends have represented nearly half of the S&P 500 Index's total return1. Figure 1 shows the contributions of dividends relative to price appreciation in each decade since 1900. While the contribution of dividends to total return has fluctuated, the contribution throughout time clearly demonstrates that dividends have played an important role in equity total return.