Bloomberg Markets recently published the list of the world's strongest banks for 2015. Hong Kong-based Hang Seng Bank(HSNGY) topped the ranking for the second year in a row.
The banks were selected based on many factors. From the article:
To identify the world's strongest banks, we used the Equity Screening (EQS) function on the Bloomberg Professional service to obtain a list of public and private banks with total assets of $100 billion or more as of June 1. The banks were evaluated in five categories. The ratio of a bank's Tier 1 capital to its risk-weighted assets accounted for 40 percent of each bank's overall score. The ratio of nonperforming assets to total assets got a weighting of 20 percent, as did the ratio of reserves for loan losses to nonperforming assets. The ratio of deposits to funding accounted for 15 percent of the score. And the efficiency ratio, which compares costs with revenues, received a 5 percent weighting.

Banks were ranked on each criterion, and the ranking positions were weighted and combined to determine the banks' overall scores. Lenders that reported a loss in net income were excluded. All data are for the banks' latest fiscal year, which in most cases ended on Dec. 31, 2014. (Norinchukin Bank and a few Indian banks have a March-ending fiscal year; their ranking was based on data for the year ended on March 31, 2014.) Only banks that provided Bloomberg with data in all five categories were considered. In total, 114 banks were ranked; 13 of them are private.
The strength of Asian banks among global banks is illustrated by their dominance in this list. Of the top 10, five are from Asia. In addition to Hang Sang, Asian banks in the top ten include Norinchikin Bank of Japan, DBS Group Holdings Ltd (DBSDY), United Overseas Bank Limited (UOVEY) and Overseas Chinese Banking of Singapore. It is interesting to note that Singapore's top three banks are in the world's strongest banks list.
Three Swedish banks appear among the top five in the regional leaders category for Europe. These banks are Svenska Handelsbanken AB (SVNLY), Swedbank AB (SWDBY) and SEB.
Click to enlarge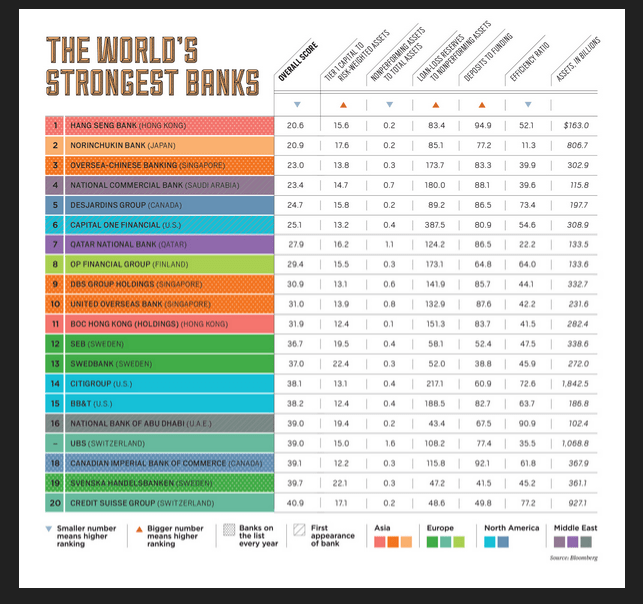 Source: Hong Kong's Hang Seng Repeats as World's Strongest Bank, Bloomberg Markets, July 29, 2015
Disclosure: Long SWDBY