A few years ago I wrote an article on the world's beer market share. The top five global beer makers in 2010 were AB InBev NV (BUD), SABMiller PLC (SBMRY), Heineken N.V. (HINKY), Carlsberg (CABGY) and China-based China Resources Enterprise(CRHKY). 
The U.S. is the world's largest beer market. However most of the American beer market is dominated by foreign-owned companies as shown in an article in the Journal back in July:
Click to enlarge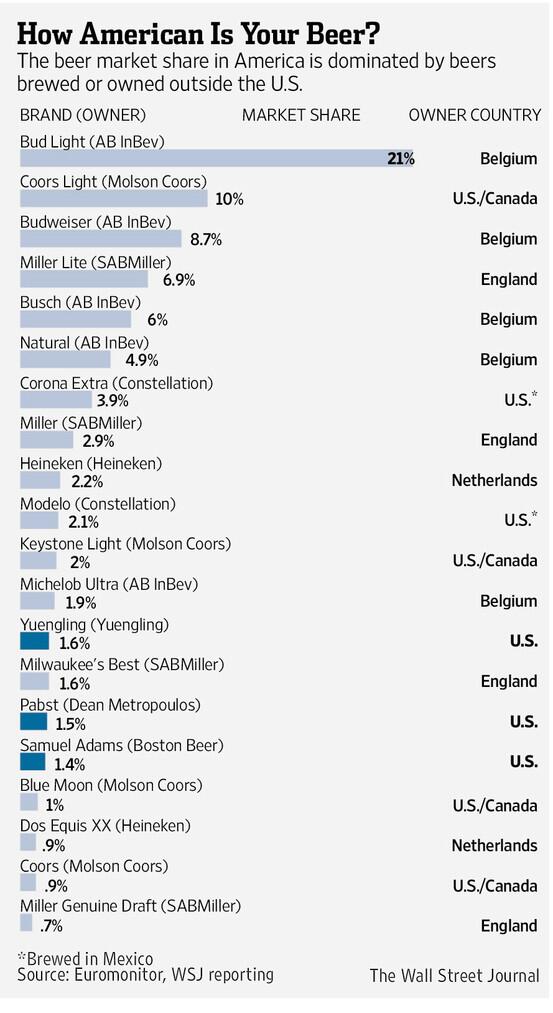 Source: InBev Buys Brewery Where Budweiser Name Began, The Wall Street Journal, July 8, 2014 and WSJ The Numbers
Two of the popular brands in the U.S. are Budweiser  and Bud Light owned by AB InBev NV (BUD). But they cannot compete quality-wise compared to imported beers or other craft brewers made by smaller brewers. For example, Canadian beer such as Labatt Blue is much stronger and taste better than Budweiser  and Bud Light. The buds are usually cheaper than other beers and hence taste accordingly…..
Disclosure: No Positions