SABMiller PLC, the international beverage company, announced plans to acquire Foster's Group(FBRWY) of Australia for A$9.51 billion ($10.06 billion). Foster's quick rejection of this takeover bid could lead to a battle among the major beer companies. Foster's rejected the offer saying it "significantly undervalues the company."
Beer companies are attractive investment options when the economy is in expansion or contraction modes. During times of economic growth, consumption of beer goes up as people tend to drink more. On the other hand, during recessions consumers try to beat stress and suffering by spending on cheap items such as beer.
The graphic below shows the Global Beer Market share in 2010: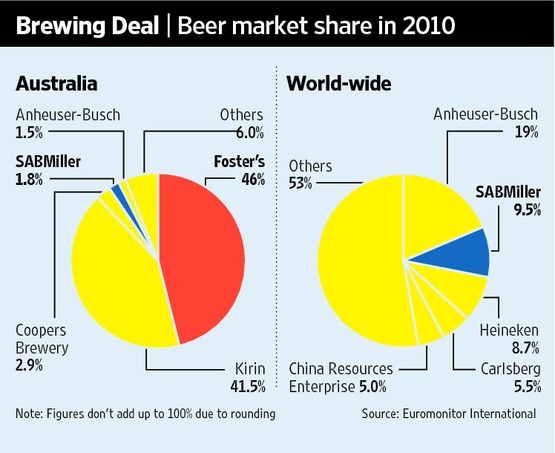 Source: The Wall Street Journal
Belgium-based Anheuser-Busch InBev NV (BUD) is the world's largest brewer by volume and owns about 200 beer brands including Budweiser, Busch, Michelob, Bud Light, and Natural Light. In February the company announced a deal to acquire 100% equity interest in Liaoning Dalian Daxue Brewery Co., Ltd. of China to expand its market share there. Last year, BUD's total revenue amounted to about $37.0 billion. While the revenue growth was under 1%, profit margin stood at a healthy 17% range.
SABMiller PLC (SBMRY) is the world's second largest brewer by volume. It owns a portfolio of over 150 brands, including international beers such as Pilsner Urquell, Peroni Nastro Azzurro and Miller Genuine Draft according to Wikipedia. SABMiller is also one of the world's largest Coca Cola(KO) bottlers with operations in 14 markets.
Dutch beer giant Heineken N.V. (HINKY) is the owner of more than 200 international, regional, local and specialty beers and ciders, including Amstel, Birra Moretti, Cruzcampo, Foster's, Kingfisher, Newcastle Brown Ale, Ochota, Primus, Sagres, Star, Strongbow, Tiger and Zywiec and operates in more than 70 countries. In January, 2010 it acquired the beer operations of Fomento Economico Mexicano, S.A.B. de C.V (FEMSA) of Mexico. Commenting on the SABMiller's takeover bid of Foster's Heineken said that it is primarly interested in expansion in emerging markets.
Copenhagen, Denmark-based Carlsberg (CABGY) brews beers under the Carlsberg Beer and other local brand names. Carlsberg holds about 40% of the Russian beer market through its ownership of the Baltika Brewery, Russia's largest beer producer.
China Resources Enterprise(CRHKY) is the subsidiary and the listed company of China Resources Holdings.It is listed on the Hong Kong Stock Exchange and is one of the constituent stocks of the Hang Seng Index. The blue-chip consumer goods conglomerate focuses on the consumer businesses including retail, beer, food and beverage in China.The group is China's largest beer producer by sales volume and is also the country's largest supermarket operator.
Related Articles:
Top 10 Beer Brands of 2011 (Beer Universe)
TOP 10 GLOBAL BEERS (The Drink Business)
The global beer industry – Sell foam like soap (The Economist)
The World's Best Beers (CNBC)
The Plot to Destroy America's Beer, Bloomberg BusinessWeek
Are We in Danger of a Beer Monopoly? (The New York Times)
Global Beer: The Road to Monopoly by Bernard Ascher, American Antitrust Institute (pdf)
The Top 10 Brewers by Volume: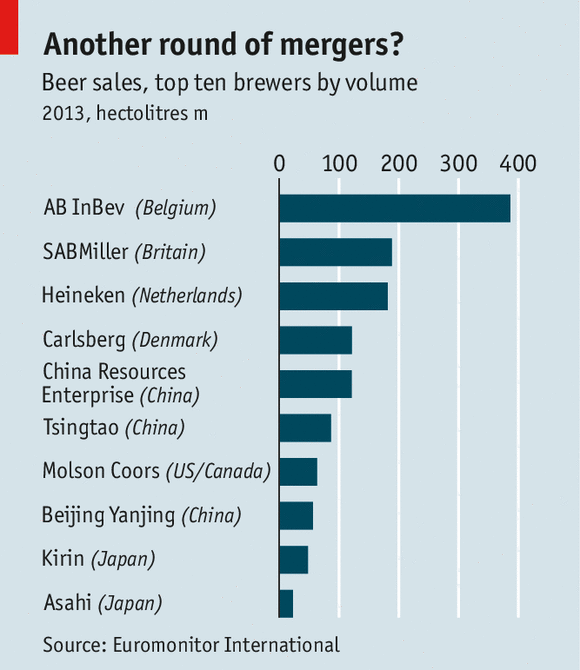 Source: The Economist, Sept 20, 2014
Disclosure: No positions