The S&P 500 is up by a 13.51% year-to-date. Though it has come down a bit from the peak in summer it is still a decent return. However a substantial portion of the returns have come from the top 7 stocks in the next dubbed as the 'Magnificent Seven'. These are Apple(AAPL), Amazon(AMZN), Microsoft(MSFT), Alphabet (GOOGL). Tesla(TSLA), Meta Platforms Inc (META) and  NVIDIA Corp (NVDA). All except Meta and Tesla have market capitalization in excess of $1.0 Trillion with Apple topping at $2.76T. The growth of these firms in the past few years have been astonishing to say the least. With that said, the YTD and 5-year returns of these stocks are shown below.
Year-to-date Returns:
Click to enlarge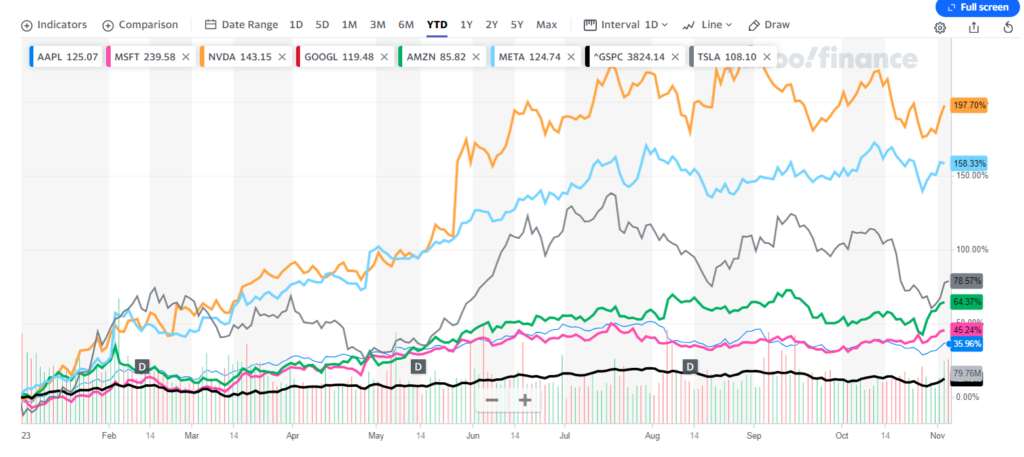 5-Year Returns:
Click to enlarge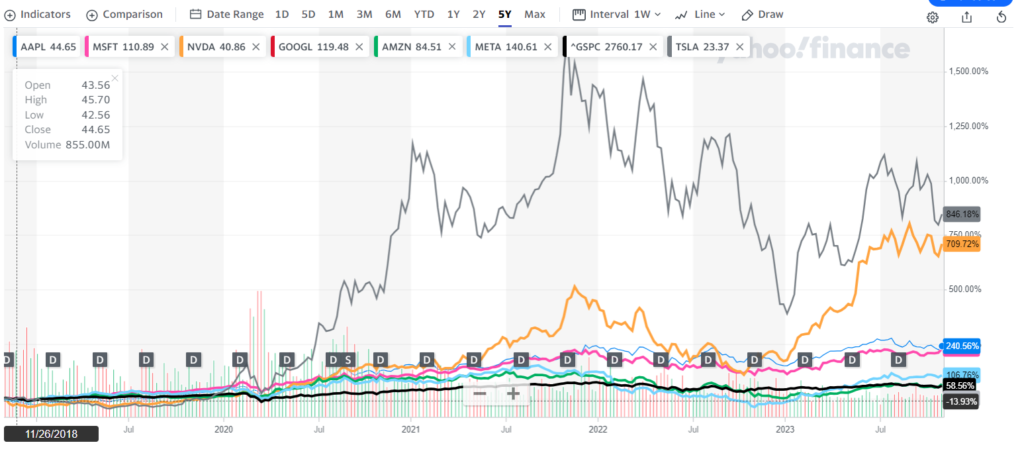 Source: Yahoo Finance
Some of these hi-fliers have nose-bleed valuations. For instance, the Forward P/E of NVDA is 41.49 while on TTM basis it is 108. In addition, NVDA has common shares outstanding of over 2.4 billion. Not to be outdone, social media darling Facebook (aka Meta) has outstanding shares of 2.6 billion. Apple has over 15.0 billion shares outstanding.
These tech stocks have not only survived but thrived even during these times of high interest rates and inflation. It remains to be see if they can maintain their upward growth trajectory the reminder of this year and beyond.
Disclosure: No positions