The S&P 500 closed at a record 2,000 yesterday. The index first crossed that milestone the day before. The following quote from The Heard on the Street column in  The Wall Street Journal puts this figure in perspective:
As Howard Silverblatt of S&P Dow Jones Indices points out, it has taken 16 years for the benchmark to get from 1,000 to 2,000 points. In one respect, that might seem quick: For example, it took 30 years to get from 100 to 1,000 points. Then again, that was a 10-fold increase rather than a mere doubling. On that basis, the latest milestone really doesn't compare with the 1990s: Getting from 500 to 1,000 points—by February 1998—took the S&P 500 less than three years.
Source: Overheard: S&P 2K, The Wall Street Journal, Aug 26, 2014 Reaching this milestone has not been easy for the index.In fact it has been a rough ride for investors over the past years. Over the long term the S&P 500 has experienced strong rises but also dramatic falls even within the same year. For investors navigating such up and down market has been a challenge to say the least. However patient investors have been rewarded by U.S. stocks as represented by the S&P 500 index since the index has continued its uptrend trend and has touched 2,000.
The chart below shows the S&P 500 calendar-year returns and market corrections from 1980 to 2013:
Click to enlarge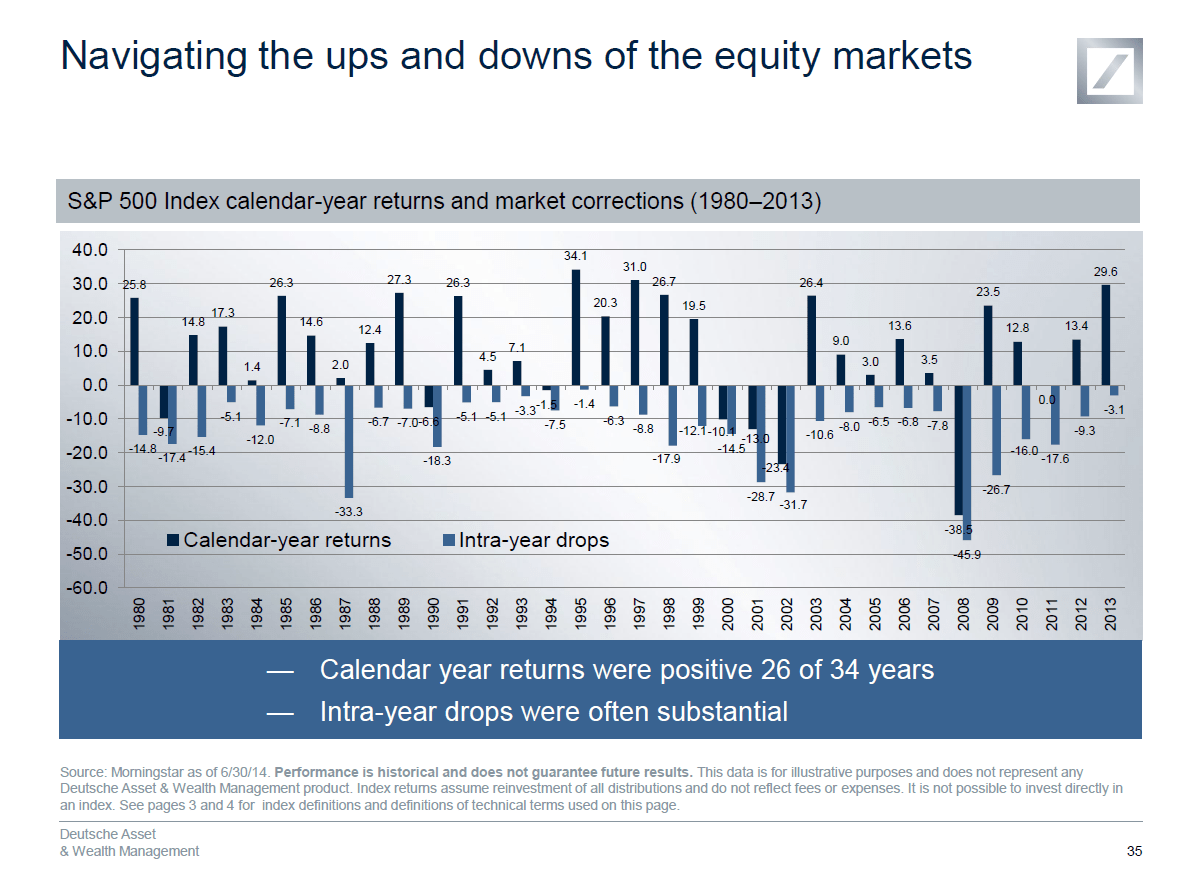 Source:  Managing risk factors to build a better portfolio, Deutsche Asset & Wealth Management
For example, more recently in 2009 the index plunged by 26.7% on an intra-year basis but still ended the year with a solid positive return of 23.5%. The performance of the index was similar in 2010, 2011 and 2012 as well. The key takeaway from the above chart is that patience and having a long-term horizon is the key to investing in equities. Trying to time the market and panic selling after major declines is not a wise strategy.
Related ETF:
Disclosure: No positions