The Global Finance magazine published the  second annual Global Cash 25 ranking last month. This ranking is based on the cash and cash equivalents held by public companies on their balance sheets. The 25 companies were selected from a list of 70,000 listed companies worldwide.
The Top 25 Global Public Companies by Cash on Balance Sheet are shown below:
Click to enlarge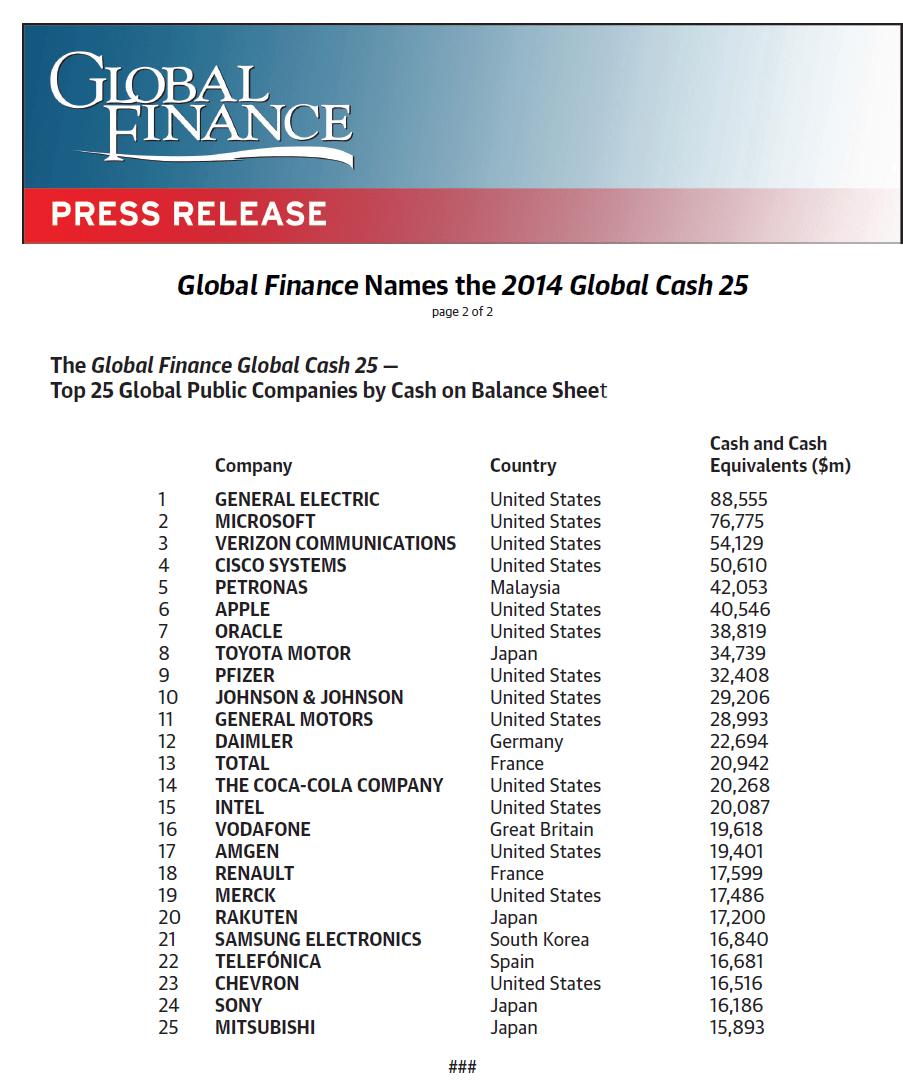 Source: Global Finance
US-based General Electric(GE) tops the list hoarding over $88.0 billion according to data analyzed by Global Finance. From an investor perspective GE stock has been dead-money for years. The company's glorious days are long gone and is not worthy of any investment. Because the conglomerate operates in so many unrelated businesses from washing machines to aircraft engines it is basically run with no particular vision or goal to be a leader in one thing. Despite all the failings GE has has a market capitalization of over $262.0 billion. The current dividend yield on the stock is 3.37% which is higher than the S&P 500's dividend yield but the performance of the stock has been pathetic for years as I mentioned before.
The other companies in the top five are Microsoft(MSFT), Verizon Communications(VZ), Cisco Systems (CSCO) and Petronas. Of these Petronas is the state-owned oil company of Malaysia. Similar to GE, Cisco is another company that is best avoided. The former hi-tech darling from the dot-com era faces tough competition from start-ups and its stock has also been dead-money since the dot-com crash.
Excluding Petronas and US firms the rest of the top global cash hoarding firms are from the developed world.
Disclosure: No positions