The Mexican stock market reached record highs since Enrique Peña Nieto became the President last year. Despite drug violence the country's economy performed well in the past few years. Though the Mexican economy is highly related to the U.S. economy, it recovered quickly from the recession following the global financial crisis. Mexico's manufacturing industry is booming as it competes fiercely with China. Due to the distance factor and rising labor costs in China some American and foreign companies are moving their manufacturing operations to Mexico. As the US economy recovers Mexico's exports to the US is rising.
Despite being an emerging market, the long-run performance of the Mexican equities is excellent. I wanted to see how the returns of Mexican stocks compared against those the Canadian and U.S. stocks. The performance data of the respective iShares ETFs for Mexico (EWW) and Canada (EWC) and the SPDR S&P 500 ETF (SPY) for the US show that Mexico beat Canada and U.S. easily in all the periods shown below.
a) 1-Year performance of Mexico against Canada and U.S.:
Click to enlarge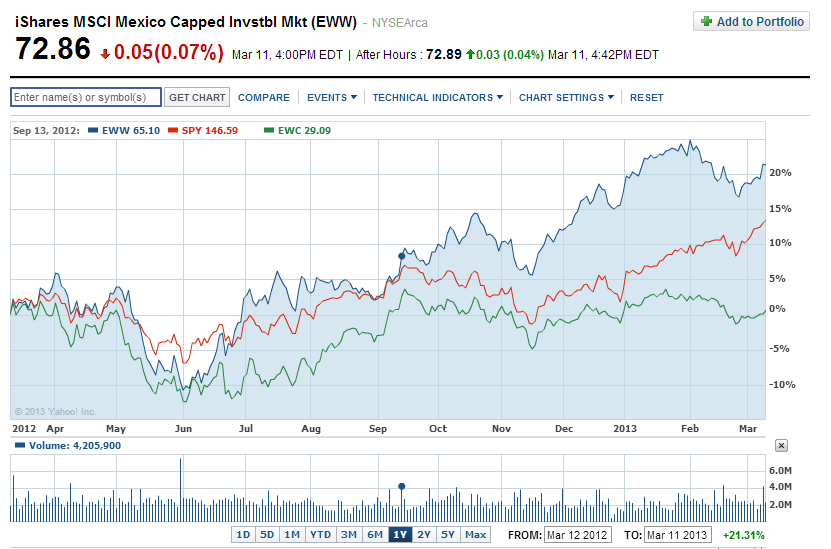 b) 5-Year performance of Mexico against Canada and U.S.: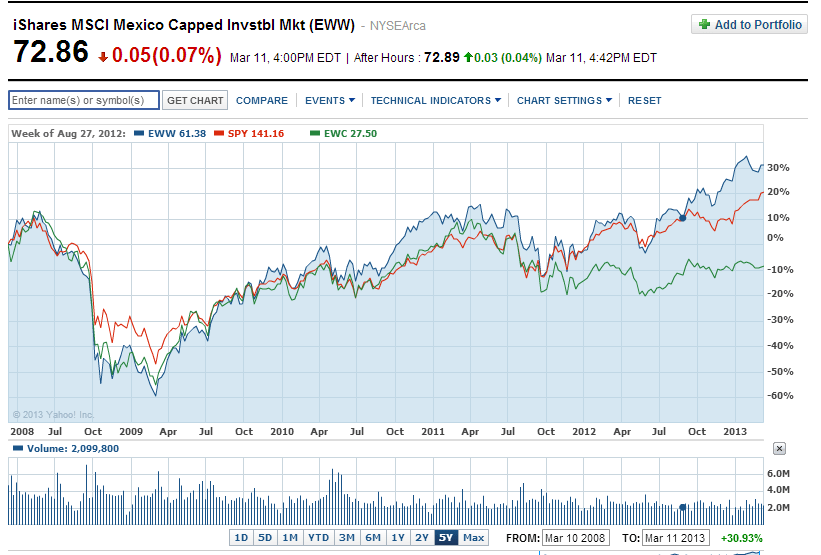 c) Multi-year performance of Mexico against Canada and U.S.: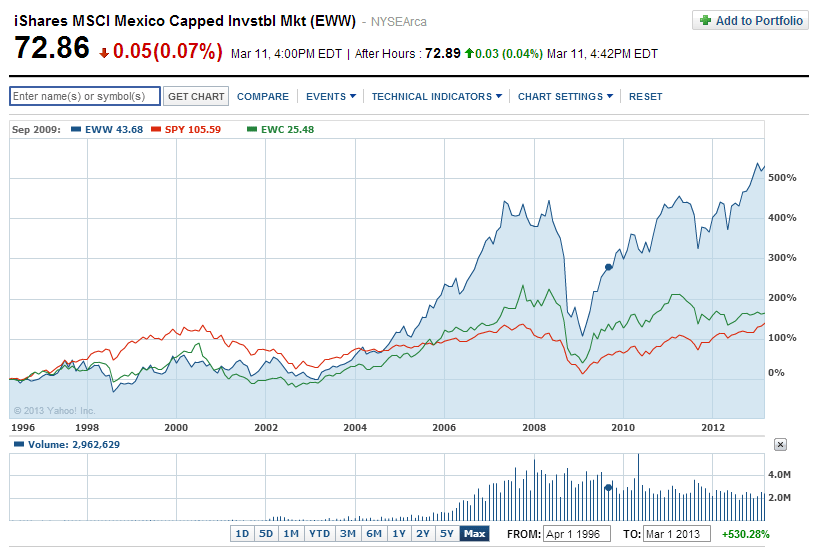 Source: Yahoo Finance
It is surprising to the see Mexican equities outperform by wide a margin compared to U.S. and Canadian equities. Currently the iShares MSCI Mexico Capped Investable Market ETF(EWW) has a dividend yield of 1.02% and total assets of $2.0 B. On the other hand, the iShares MSCI Canada Index Fund (EWC) and SPDR S&P 500 ETF (SPY) have total assets of $5.0 B and $125.0 B respectively. One of the key takeaways from this post is investors venturing into South of the border can earn higher returns. Though past performance is not a predictor of future performance, in the current situation many factors tend to be in Mexico's favor.
Note: Dividend yields noted are as of Mar 11, 2013
Disclosure: No Positions