The British banking industry is slowly recovering from a multitude of problems including the effects of global financial crisis, the European debt crisis, the LIBOR manipulation scandal, etc. Among the top five banks, three reported decent earnings for  last year. In addition, HSBC, Barclays and Standard Chartered also increased their dividends for the first time since the financial crisis  in the most recent earnings.  All the three banks have strong exposure to overseas markets with HSBC calling itself  "the world's local bank". Hence investors looking to add British bank stocks can add these banks at current or lower prices.
Lloyds Banking Group and Royal Bank of Scotland Group reported losses for 2012 and currently do not pay a dividend.The British government still holds major stakes in them. Hence uncertainty shrouds the future of these banks. Since markets hate uncertainty it is not surprising that investors are not attracted to them.

From an article in The Wall Street Journal today:
Donald Kohn, a former U.S. Federal Reserve vice chairman now on the U.K. central bank's Financial Policy Committee, said in an interview that a clear plan to get the two lenders back into wholly private hands would enable the duo to be "a more vigorous competitive presence in the U.K. market."

The British taxpayer has an 81% stake in RBS and a 40% stake in Lloyds, following bailouts in 2008 and 2009. Official figures show lending to most parts of the economy shrank in 2012.

"I think sitting where we are right now with this major government ownership, with people not being clear about the path forward and the timing of the path forward, I think [that] has perhaps contributed to some extent to some of these supply issues," Mr. Kohn told The Wall Street Journal in London.
The five British banks are listed below with their tickers on the US markets and the current dividend yields:
1.Company: HSBC Holdings PLC (HBC)
Current Dividend Yield: 6.57% 4.10%
2.Company: Barclays PLC (BCS)
Current Dividend Yield: 2.17%
3.Company: Standard Chartered PLC (SCBFF)
Current Dividend Yield: 3.44%
4.Company: Royal Bank of Scotland Group PLC (RBS)
Current Dividend Yield: No dividends paid
5.Company: Lloyds Banking Group PLC (LYG)
Current Dividend Yield:  No dividends paid
The following chart shows the performance of the five banks since 2009:
Click to enlarge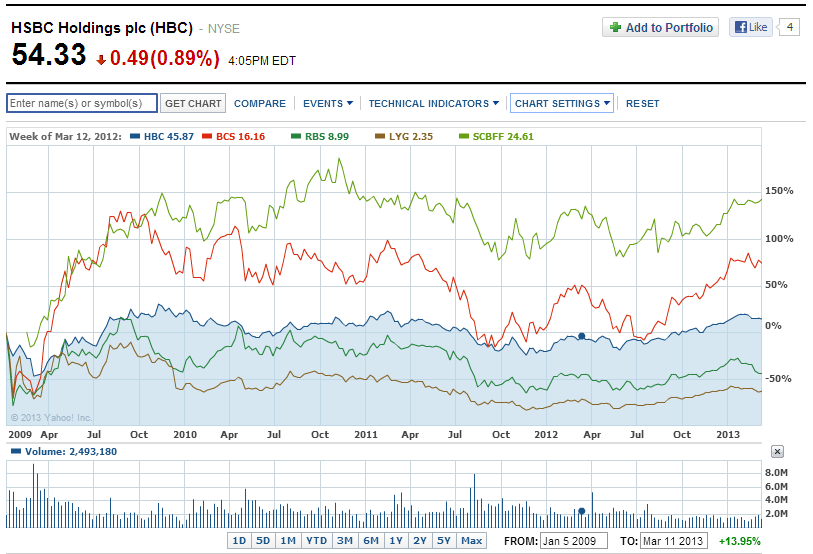 Clearly RBS and Llyods are lagging their peers by a wide margin.
Source: Yahoo Finance
Note: Dividend yields noted are as of Mar 12, 2013
Disclosure: Long LYG