"Competition is a sin." – John D. Rockefeller, American industrialist and philanthropist
In January 2012, I posted an article on the monopoly madness in the U.S. railroad industry where a handful of Class I carriers dominate the industry today.
Last week two of the large U.S. airlines, American Airlines and US Airways announced to merge their operations to create the country's largest airline. The merged airline would also be the world's largest airline. With this merger, the airline industry also will be dominated by just four carriers – American/US Airways, United Continental Airlines(UAL), Delta Airlines (DAL) and SouthWest Airlines(LUV). These four carriers will hold more than 80% of the US market share. While this merger is great for investors in American and US Airways, it is disastrous for consumers as airfares and a myriad of other fees are bound to soar with reduced competition. In addition, the already pathetic customer service offered by US airlines with the exception of SouthWest will get even worse. As is customary, toothless regulators and crooked politicians will not raise a finger to this deal.
Click to enlarge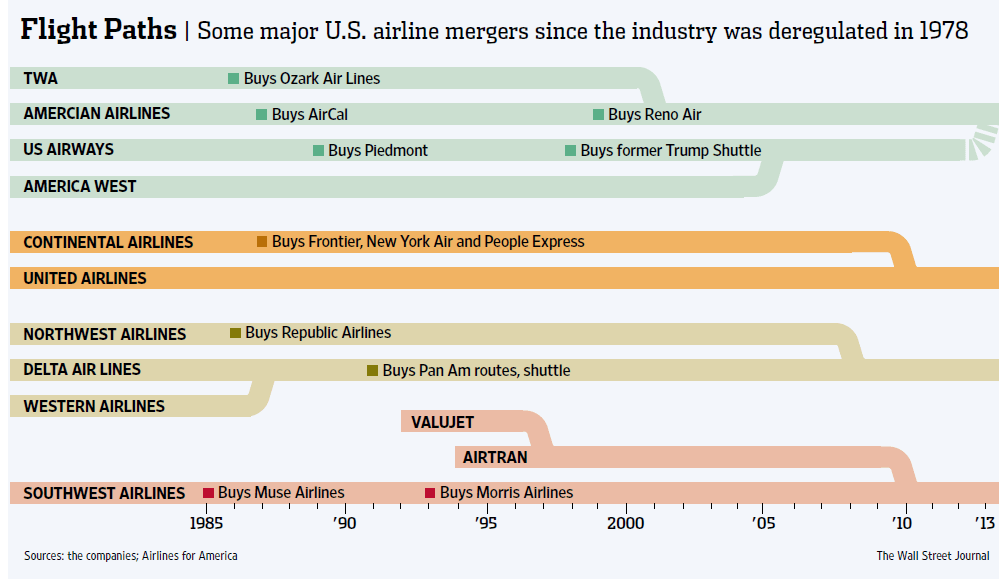 Source: Fewer Airlines, More Profits, The Wall Street Journal
As David Rockefeller correctly stated in the 19th century, competition is a word capitalists hate. Capitalism and competition do not go well together in most cases. It is not just the airline and railroad industries that are oligopolies  most of the other industries in the U.S. are also oligopolies as well. For example, the U.S. wireless market is dominated by just three carriers – AT&T(T), Verizon (VZ) and Sprint Nextel(S). The auto market is dominated by Ford(F), General Motors (GM), Chrysler and some foreign companies. WellsFargo (WFC), Bank of America(BAC), Citigroup (C) and JPMorgan Chase(JPM) share the majority of the U.S. banking industry. While hundreds of railroads used to operate in the 19th and early 20th centuries, today one railroad company (Amtrak) operates long-distance passenger train service in the country making it a monopoly. Similarly one can take any industry and see how a handful companies hold the market share by crushing the competition in any way possible.
Contrary to popular myths, competition is non-existent in most of the industries regardless of what politicians of both parties preach to the unsuspecting public. As a result of the state-supported monopolies and oligopolies in every major industry Americans are forced to use inferior products and services relative to most other developed countries on a daily basis. Cell phone service, internet speeds, quick and easy money transfer from one person to another person with an account in a different bank, underground laying of power lines, etc. are simple examples of services which are inferior compared to even some third-world countries.
Update:
From Europe's Telcos Press Deals in WSJ, Feb 28, 2013:
In Europe, more than 100 operators owned by some 40 companies are slugging it out over a population of 505 million. The competitive environment strikes a sharp contrast with the U.S., where Verizon Wireless and AT&T Inc.T -0.77% control most of the industry's valuable contract customers and profits.

Verizon Wireless declined to comment. An AT&T spokesman said the U.S. wireless market is competitive, leading to faster rollout of advanced networks, and that fragmentation like that in Europe would hurt investment.

The price wars in Europe have benefitted consumers. Europe today boasts the cheapest rates for mobile data, as a share of income, of any region of the world, according to a new estimate from the International Telecommunication Union.

In Italy, for instance, Hutchison Whampoa Ltd. 0013.HK -1.83% operator 3 Italia offers a plan for new customers with 400 minutes of talk time and two gigabytes of data for EUR10 per month, or just over $13. A similar plan from Sprint Nextel Corp. S +1.03%unit Virgin Mobile costs $35 a month, according to prices quoted on the companies' websites.

In general, mobile service can be 50% to 75% less expensive in Europe than in the U.S. for comparable plans, according to Vincent Brunet, head of the consumer mobile business at France Télécom. "This is not a sustainable model," Mr. Brunet said. "I don't see how it can go on forever, because you will have operators who cannot invest in the network."
Disclosure: No Positions
Update (4/30/16):
Click to enlarge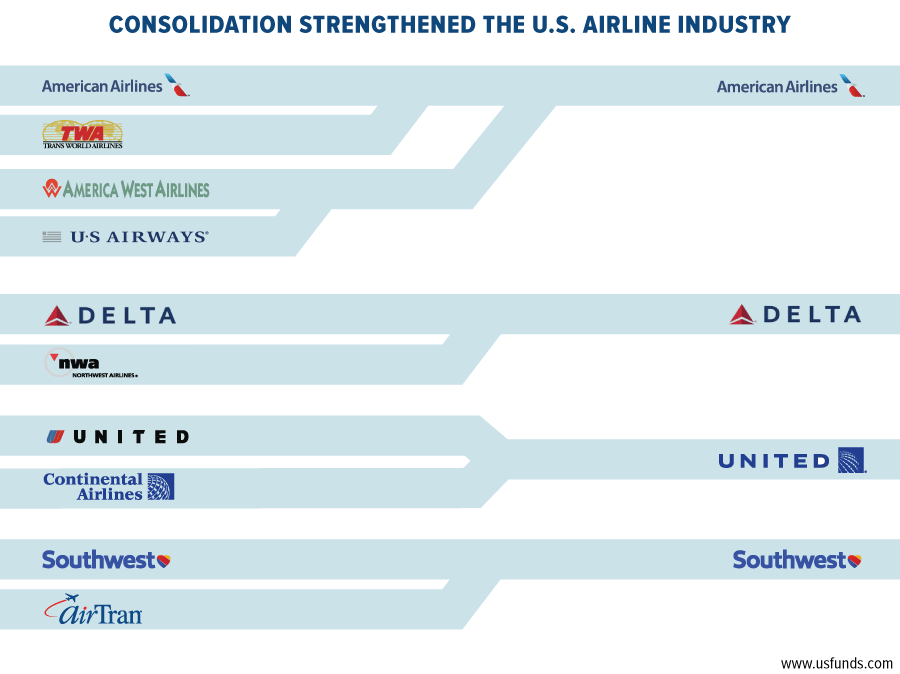 Source: US Funds