In an article on European banks last month I suggested that it was not clear if rising stock prices of financials was an indicator of a bull market for the overall equity market. This post is an update to that discussion.
According to a recent article in Bloomberg BusinessWeek, European banks have borrowed only a quarter of the $6.6 Trillion allocated in state rescue aid by the European Commission. UK, Germany and Ireland received the bulk of the funds.
Click to enlarge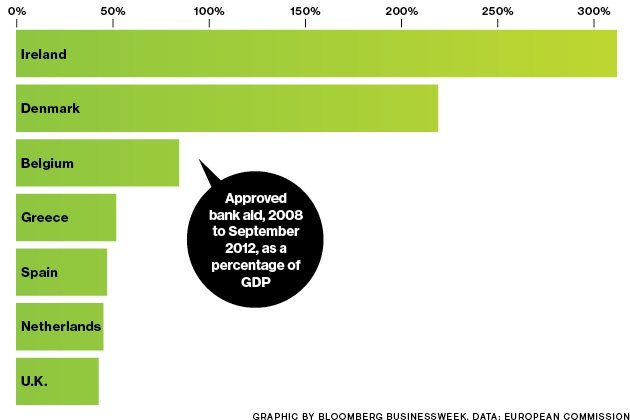 Source: Europe's Bank Rescue Tally, Bloomberg BusinessWeek
From a  news report in the weekend Journal:
Hundreds of European banks are rushing to repay cheap loans they borrowed from the European Central Bank a year ago, in a show of confidence that financial markets are returning to health three years into the region's debt crisis.

The ECB will get back €137 billion ($182.2 billion) from 278 banks on Jan. 30, the first day that the three-year loans can be repaid—and nearly two years before they are due—the European Central Bank said Friday.

That represents more than one-quarter of the €489 billion that banks tapped from the ECB in December 2011. Banks borrowed an additional €530 billion in a second installment of three-year loans last February, bringing the total to more than €1 trillion.

The ECB didn't provide a breakdown in loan repayment by bank or country. Roughly one third of the money that was repaid came from Spanish banks, according to a person familiar with the matter.
Flexible liquidity requirements and rising earnings seem to be the driver behind the rally in European bank stocks for the past few months. In one year European financials have increased by 20% in Euro terms as represented by the benchmark STOXX® Europe 600 Banks index. The six months return is more spectacular with gains of about 47%.
Click to enlarge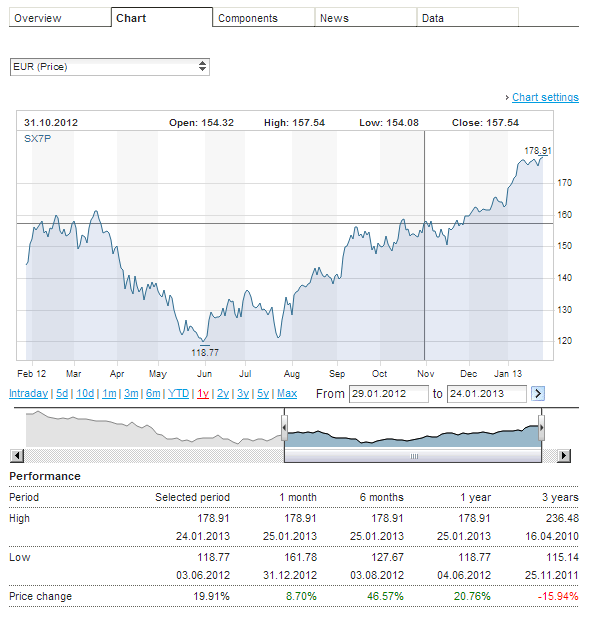 Source: STOXX
All the exchange-listed European bank ADRs with the exception of National Bank of Greece (NBG) are in the positive territory year-to-date with some banks up by double digit percentages. Bank of Ireland (IRE) and Credit Suisse (CS) have shot by more than 38% and 20% respectively.
The early payment of state aid and strong performance of their stocks indicate that the worst is over for European banks. They may indeed continue to rally this year although at a slower pace. If some of the banks that suspended dividend payments after the financial crisis resumed dividends then it will give an additional boost to the sector.Though unemployment and other issues continue to plague Europe,  the dooms-day predictions of the complete collapse of the Euro and the EU are not going to occur, at least for the foreseeable future. Hence investors may further bid up European financials on any new positive developments.
Disclosure: No Positions