The growth of the ETF industry in the U.S. in recent years has been phenomenal. ETF providers have sliced and diced equities, fixed income instruments and other assets into every way possible. Yet still new ETFs continue to launched on a regular basis.
As of October this year, a total of 1,240 Exchange-Traded Funds (ETFs) were managed by 37 ETF providers.The total assets in these funds equaled a whopping $1.3 Trillion.
Click to enlarge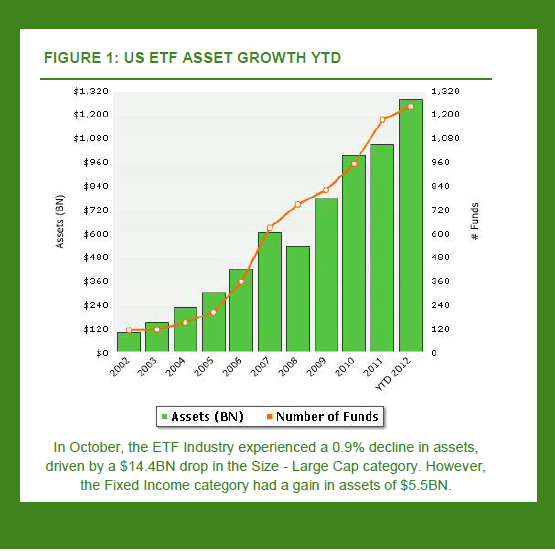 Some of the interesting facts about the ETF industry include:
The inverse/leveraged category of funds has the highest number of ETFs at 179 followed by fixed income with 175 funds.
For investing in foreign equities, there are 122 ETFs for developed markets, 128 for emerging markets and 48 under the international specialty category.
The top three ETF providers are Blackrock (iShares), State Street Global Advisors (SPDR) and Vanguard. These three firms dominate the market accounting for 83% of the US listed ETF market.
The top 10 ETFs by asset size as of October, 2012 are shown below:

The presence of two emerging market funds (VWO and EEM) among the top five shows investors' interest in emerging markets.
Source: ETF SNAPSHOT: October 2012, SPDR
Disclosure: No Positions