The ETF industry has grown tremendously in the past few years. However relative to mutual funds ETFs are still smaller in terms of total numbers of funds available on the market and the assets held in them. The following chart shows the number of mutual funds vs. ETFs:
Click to enlarge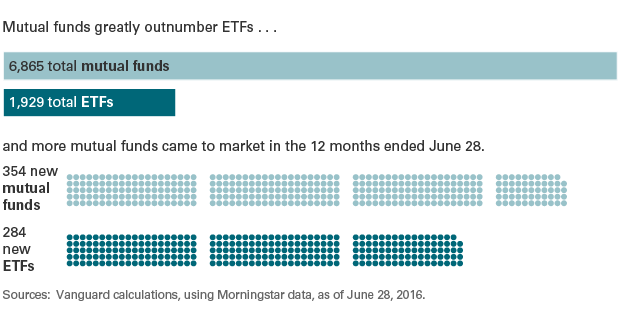 Source: Vanguard Blog for Advisors
In the US market, there were 1,929 ETFs as of June 28 this year. Though this figure looks large, the total number of mutual funds available is in the thousands. In fact, 6.865 mutual funds are now available for investors. Thats not all. In the past 12 months thru June 28, 354 mutual funds were launched while only 284 ETFs came to the market.
A few reasons why mutual funds continue to thrive over ETFs are:
As the name implies ETFs are designed for easier trading all day when markets are open. So investors consider ETFs to be short-term instruments while mutual funds are something that buy and forget for years.
Mutual funds are the main funds offered to Americans in retirement accounts such as 401K by their employers. Hence most workers are indirectly forced to invest in mutual funds than ETFs or other assets. Hence the mutual fund industry has a stranglehold on the billions of retirement assets of most people.
Unlike an ETF which usually track an index, many investors go with mutual funds especially actively-managed funds falsely believing that a fund manager will be good enough to outperform the market. The mutual fund industry continues to convince Americans thru misleading marketing that star-fund managers are better at investing than ETFs or even individual investors building a portfolio themselves.
Some of the large ETFs on the US market include:
Disclosure: No Positions