The Argentine stock market is depressed this year. Argentina's Merval index is down 8.89% year-to-date(YTD) while Brazil's Bovespa is up 1.4%, Chile's IPSA is flat and Mexico's IPC index has shot up 13.1%. The difference in performance between the Merval and the three other indices is much higher over the past 5 years.
The five-year performance of Merval against Bovespa(BVSP), IPSA(IPSA) and IPC(MXX) indices is shown below:
Click to enlarge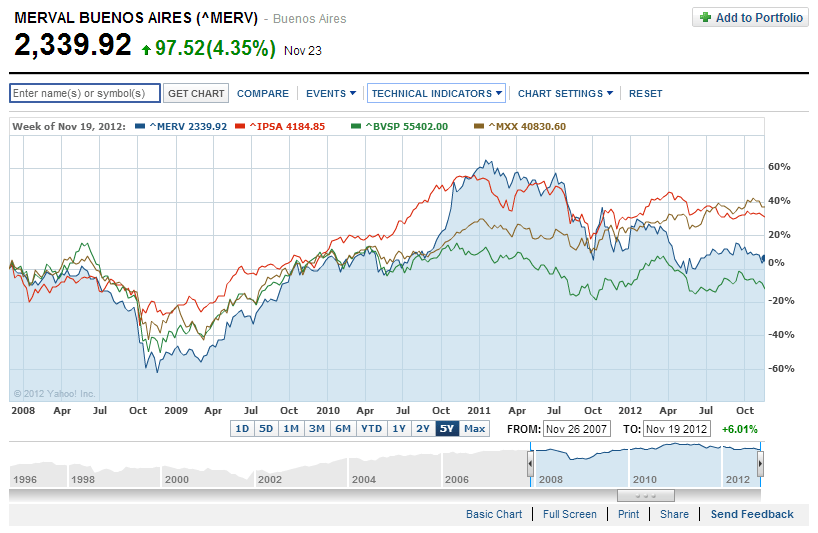 Source: Yahoo Finance
Argentina experienced an economic crisis from  1999 thru 2002 when the country defaulted on its debts and the economy collapsed. From 2003 thru 2007, President Néstor Kirchner, the late husband of current President  Cristina Kirchner, successfully led Argentina with a strong economic recovery. However under the Cristina Kirchner's administration, the country is going backwards after a those years of stability and growth.
From Argentina Runs Out of Other People's Money by Mary Anastasia O'Grady in The Wall Street Journal last week:
Mrs. Kirchner, who was elected to a second four-year term in October 2011 with 54% of the vote, appears to be in deep political trouble. To understand why, recall Prime Minister Margaret Thatcher's 1976 warning that socialists "always run out of other people's money."

To the extent it has succeeded, the Kirchner economic model has relied on the 2001 default on $100 billion in debt and interest, a weak peso, protectionism, confiscation of private property, capital controls, broken contracts and high taxes. In other words, it has depended on other people's money. Now, as Mrs. Thatcher warned, that money is running out.

In the second quarter, the economy contracted by .6% year over year. The Buenos Aires-based think tank Foundation for Latin American Economic Research (known by its Spanish initials FIEL) is forecasting 2012 GDP growth of only 1.5%. Inflation is estimated by independent economists at almost 25% annually. As salaries are adjusted upward to compensate for the loss of purchasing power, workers are being pushed into higher tax brackets. Argentines traveling abroad now have to explain their plans to government bureaucrats if they want to buy hard currency.

Add these pocketbook issues to the rising rate of violent crime, recurring corruption scandals, increasing antidemocratic efforts to silence independent media outlets and pronouncements from Mrs. Kirchner's inner circle that it wants to amend the constitution to allow her to run for a third term. The Kirchner government has also angered labor leaders by letting it be known that it plans to shift union control of hundreds of millions of dollars in health-care premiums to the government.
In February of this year, The Economist had an critical article on Argentina's inflation conundrum and how it would impact the country's future. From The price of cooking the books:
Since 2007, when Guillermo Moreno, the secretary of internal trade, was sent into the statistics institute, INDEC, to tell its staff that their figures had better not show inflation shooting up, prices and the official record have parted ways. Private-sector economists and statistical offices of provincial governments show inflation two to three times higher than INDEC's number (which only covers greater Buenos Aires). Unions, including those from the public sector, use these independent estimates when negotiating pay rises. Surveys by Torcuato di Tella University show inflation expectations running at 25-30%.

PriceStats, a specialist provider of inflation rates which produces figures for 19 countries that are published by State Street, a financial services firm, puts the annual rate at 24.4% and cumulative inflation since the beginning of 2007 at 137%. INDEC says that the current rate is only 9.7%, and that prices have gone up a mere 44% over that period (see chart).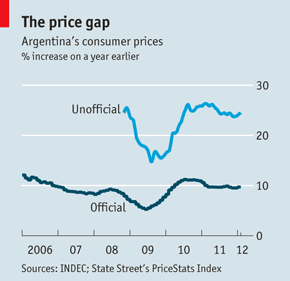 In terms of equity markets, the Merval has fallen about 9% YTD but individual Argentine stocks are down much higher. Of the 15 exchange-listed Argentine ADRs, just two are up this year.
The year-to-date returns of Argentine ADRs:
Click to enlarge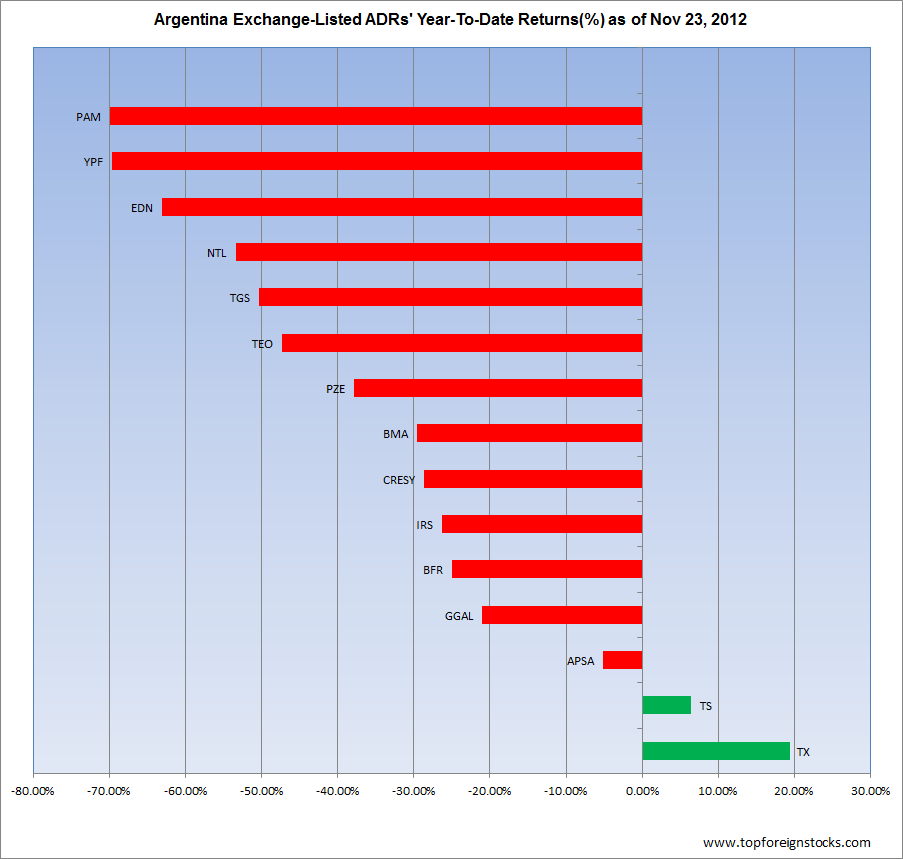 Earlier this year, Argentina announced plans to nationalize  the country's largest oil-and-gas company YPF S.A. (YPF) angering Spain since Spain-based Repsol YPF SA owned a controlling stake in YPF. Not surprisingly the YPF ADR is down nearly 70% YTD. In another market unfriendly move, a regulatory change earlier this year increased excess capital that dividend-paying financial institutions must hold from 30% to 75%. As a result, banks such as Banco Macro(BMA) were forced to suspend dividend payments.
From a investment perspective, investors can avoid investing in Argentine stocks now since there are too many variables that are difficult to predict starting with political maneuvers of populist President Cristina Kirchner. The risk to reward ratio is not favorable for investors. Until the political and economic situation improves investors can easily find plenty of better opportunities elsewhere including in neighboring Chile, Mexico or Brazil.
Disclosure: Long BMA