The Coca-Cola Company trading under the ticker KO is different from the bottler Coca-Cola Enterprises Inc trading under the ticker CCE on the NYSE. As a multi-national company, Coca-Cola has bottlers in many countries of the world and each operate as an independent company and their stocks trade under separate tickers. In this post, lets take a quick look at six of such bottlers. These companies hold exclusive rights to bottle, market and distribute Coca-Cola products in specific regions.
1.Coca Cola FEMSA SAB de CV (KOF):
Mexico-based Coca-Cola FEMSA  operates 35 bottling facilities in Latin America and serves more than 1,700,000 retailers in the region. The company engages in the production and distribution of many products such as bottled water, Coca-Cola, Fanta, Sprite, Powerade, Delaware Punch and other branded beverages of The Coca-Cola Company in Mexico, Guatemala, Nicaragua, Costa Rica, Panama, Colombia, Venezuela, Brazil and Argentina.
In its most recent quarter net profit rose by 54% on sales of 36.19 billion Mexican pesos. The ADR has a market capitalization of $6.0 billion and a current dividend yield of 1.45%. As can be seen in the chart below, the stock has had an solid run with a $10,000 investment five years ago worth about $34,244 now.
2.Coca-Cola Hellenic Bottling Co SA (CCH):
Based in Greece, Coca-Cola Hellenic Bottling Co SA produces and distributes Coca-Cola products in 27 countries in Europe and Nigeria. The products marketed by the company include Coca-Cola, Coca-Cola Light (diet Coke), Fanta and Sprite; brands such as Amita, Avra, Deep RiverRock and Fruice, and brands licensed by other companies such as Nestea.
For the third quarter, Coca-Cola Hellenic reported a net profit of EUR155.6 million on revenues of EUR2.03 billion. Due to the ongoing economic crisis in Europe, the company acknowledged that the environment is very challenging.
3.Embotelladora Andina S.A. (AKO.A and AKO.B):
Chile-based Embotelladora Andina SA (Andina) is the primary producer and distributor of Coca-Cola products in Chile, Brazil and Argentina. In addition, the company sells related-products such as bottled water, powdered drinks, juices, etc. Andina trades on the New York Stock Exchange under two tickers – AKO.A and AKO.B.  Currently the stock pays a dividend of over 2%.
4.Coca-Cola Amatil Ltd (CCLAY):
Coca-Cola Amatil is one of the largest bottlers of non-alcoholic beverages in the Asia-Pacific region and one of the world's top five Coca-Cola bottlers. The company operates in Australia, New Zealand, Fiji, Indonesia and Papua New Guinea. The Coca-Cola Company owns 30% of the shares of Coca-Cola Amatil, which is also one of Australia's 'Top-50' listed companies.
Trading on the OTC market in the U.S., CCLAY has a market capitalization of over $10.0 billion and a current dividend yield of 4.0%.
5.Coca-Cola West Co Ltd (CCOJY):
This company is engaged in the production and marketing of Coca-Cola products in Japan.
6. Coca-Cola Enterprises Inc (CCE):
Coca-Cola Enterprises is the anchor bottler for Coca-Cola products in Western Europe. The company serves about 170 million consumers in Belgium, continental France, Great Britain, Luxembourg, Monaco, the Netherlands, Norway, and Sweden.
On total revenues of $2.07 billion in the third quarter the company reported a profit of $263 million or 89 cents a share. The current dividend yield is 2.11% and the market capitalization is $8.7 billion.
The five-year performance of four stocks noted above is shown in the chart below:
Click to enlarge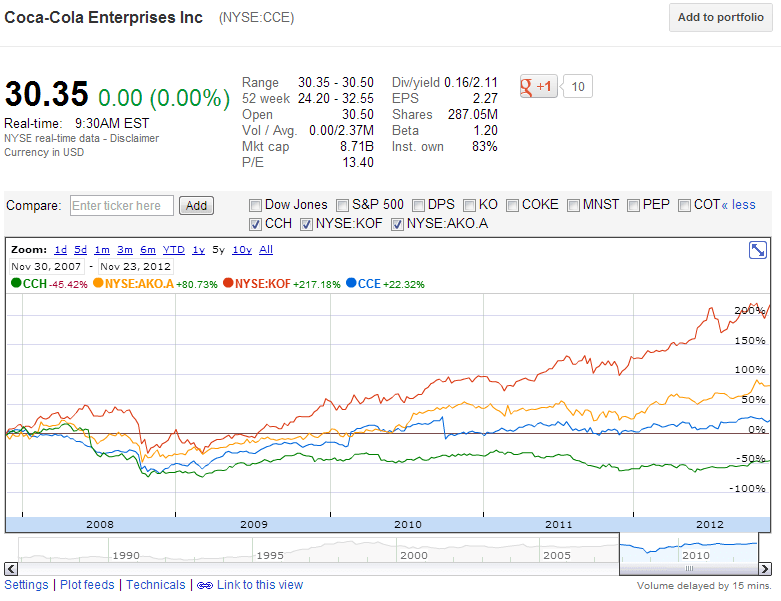 Source: Google Finance
Coca-Cola Femsa (KOF) beat the other stocks with a return of over 217%. In the 10-year period also, KOF was the top performer growing by over 521%.
Note: Dividend yields and market capitalizations noted are as of Nov 21, 2012.
Disclosure: No Positions