Argentina went to poll today in the run-off to elect a new president. Global investors hope that the new president can get the economy going on the right track after years of stagnation. Ahead of this election, Argentina stocks are on fire with the Merval Index up by 65% year-to-date. The long-term return of the benchmark is shown in the chart below:
Click to enlarge
Source: Yahoo Finance
From a journal article this weekend:
To be sure, foreign investors also believe there is much to remain concerned about in Argentina.

The Argentine economy has barely expanded in recent years, and the International Monetary Fund expects its gross domestic product to contract 0.7% next year.

The country has significant economic problems, including one of the world's highest inflation rates, at about 25%. Investors are also expecting Buenos Aires to devalue its currency.

A failure to strike a deal with holdouts from a 2001 debt restructuring, meanwhile, has blocked Argentina's access to international bond markets to raise money.

Still, some investors have been slowly building up positions in Argentine stocks and bonds despite the concerns.

Argentina's main stock index, the Merval, has risen by more than 25% over the past month.The gap between the yield on dollar-denominated Argentinian government bonds and U.S. Treasurys has narrowed from a recent peak of 7.6% in early 2015 to 4.8% as of Nov. 19, according to the Argentina subindex of the J.P. Morgan Emerging Markets Bond Index Global, a level last seen in early 2011.
Source: Argentina Lures Money Managers, WSJ, Nov 21, 2015
Here is a simple graphic from an article in the BBC today: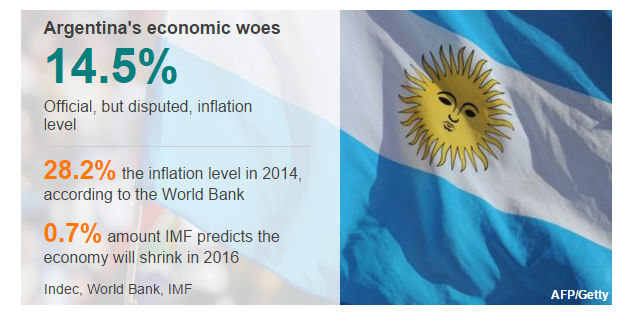 Source: Argentina goes to polls in first ever presidential run-off, BBC
Many of the Argentina ADRs are also up sharply this year in anticipation of leadership change. For example, electric utilities Pampa Energia(PAM) and Edenor(EDN) are up by over 161% and 110% respectively.
So should investors jump into Argentine stocks now?
According to my opinion, investors should not dive into Argentine equities at current levels. Stocks have soared already and economic reforms will take time to be initiated and implemented. IMF does not expect the GDP to grow significantly in 2016 as noted above. In general, Argentina is a frontier market and accordingly equities are highly risky.
Go to The Full List of Argentina ADRs for the complete list of ADRs trading on the US markets.
Disclosure: No Positions