The German economy is the largest economy in Europe. Last year the GDP reached 2.5 Trillion Euros. In the third quarter of this year the economy grew by a seasonally adjusted 0.2% relative to the previous quarter. In the third quarter, the total number of employed persons stood at 41.7 million and the provisional household savings ratio reached 8.8%.
In the current European fiscal crisis, Germany has taken the center-stage due its vast economic and financial clout in the European Union. Despite widespread opposition among the local population, Germany reluctantly agreed to bail out Greece but with conditions. Similarly Germany has supported aid to other struggling European countries such as Portugal. One of the reasons for Germany's support of the bailout packages to these and other European countries is that Europe is Germany's largest trading partner. The Germany economy would be adversely affected if there are any dramatic crisis in the EU such as the death of the Euro. Hence it is in Germany's best interest to support the European Union and help poorer countries with financial aid.
The Top 10 Trading Partners of Germany in 2011 are shown in the chart below:
Click to enlarge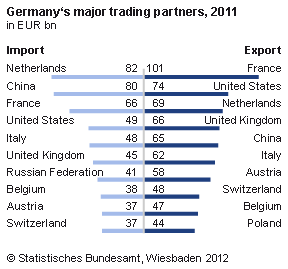 Source: De Statis
Some of the key facts about Germany's trade in 2011 are:
As an export-oriented economy, German exports was higher than imports in 2011. Exports totaled EUR 1.5 Trillion while imports amounted to EUR 903 billion.
According to the De Statis report, about 71% of exports of goods made in Germany were shipped to European countries. 
In addition to being the largest export market for Germany, Europe was also the largest source of imports for Germany accounting for 69% of all German imports.
Asia was the 2nd important market for Germany with a share of about 16% followed by North America at 10%.
In 2011, the top countries for German exports were France followed by U.S. and the Netherlands.
The top three exporters to Germany were the Netherlands, China and France.
Greece ranked 38th behind Ukraine for German exports and 49th for German imports. German exports to Greece totaled EUR 5.0 billion and  imports totaled just EUR 1.9 billion.
Related ETF:
iShares MSCI Germany Index Fund (EWG)
For a post on 2010 German trade data click here.
Disclosure: No Positions