Dividends account for a significant portion of total returns of equity investments. This is especially true when total returns are considered over the long-term. Dividend-paying companies generally have strong cash-flows and unlike other numbers reported in earnings statements dividends are paid out of profits. Hence when evaluating stocks it is important to select companies that not only pay at least some dividends but also to look for consistent dividend increases over many years.
The following chart shows the composition of the S&P 500's total return by decades:
Click to enlarge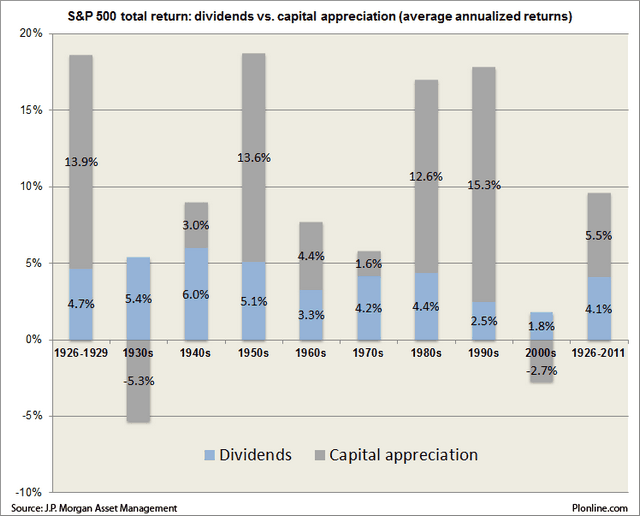 Source: Pensions & Investments
Dividend returns were higher than capital appreciation in some decades. In the bull market of the 80s and 90s dividends formed a smaller part of the total returns but in the 2000s when equity prices yielded negative 2.7% dividends paid a decent 1.8%.
The top ten holdings in the Mergent's US Broad Dividend Achievers Index are listed below with their current dividend yields.The US Broad Dividend Achievers Index is:
comprised of companies incorporated in the United States or its territories, trade on the NYSE, NASDAQ or AMEX, and have increased its annual regular dividend payments for the last ten or more consecutive years. In addition, Mergent requires that a stock's average daily cash volume exceed $500,000 per day in the November and December prior to the annual reconstitution date on the last trading date in January.
1.Company: Chevron Corp (CVX)
Current Dividend Yield: 3.21%
Sector: Oil & Gas – Integrated
2.Company: AT&T Inc (T)
Current Dividend Yield: 4.94%
Sector: Telecom
3.Company: Exxon Mobil Corp (XOM)
Current Dividend Yield: 2.50%
Sector: Oil & Gas – Integrated
4.Company: International Business Machines Corp (IBM)
Current Dividend Yield: 1.64%
Sector: Computer Services
5.Company: Walmart Stores Inc (WMT)
Current Dividend Yield: 2.10%
Sector: Retail (Department & Discount)
6.Company: Johnson & Johnson (JNJ)
Current Dividend Yield: 3.59%
Sector: Biotechnology & Drugs
7.Company: Procter & Gamble Co (PG)
Current Dividend Yield: 3.31%
Sector: Personal & Household Products
8.Company: The Coca-Cola Co (KO)
Current Dividend Yield: 2.67%
Sector: Beverages (Nonalcoholic)
9.Company: PepsiCo Inc (PEP)
Current Dividend Yield: 3.07%
Sector: Beverages (Nonalcoholic)
10.Company: Abbott Laboratories (ABT)
Current Dividend Yield: 2.94%
Sector: Biotechnology & Drugs
Note: Dividend yields noted are as of Oct 12, 2012
Disclosure: No Positions