The Brazilian economy is in the midst of a slowdown. After years of having strong economic growth the emerging market had a moderate growth of 2.7% in 2011 compared to 7.5% in 2010. This year the economy is projected to expand by just 1.5%. However the GDP is estimated to grow by 4.0%.
In order to stimulate economic growth, the government of Dilma Rousseff has announced plans to reduce taxes on electricity which will benefit consumers and business with lower electricity bills. This is a bold and brilliant move by Brazil and is bound to succeed. Policies such as this are unlikely to be even considered by politicians in the developed world. For example, high energy prices in the form of soaring gasoline costs, heating and electricity prices are strangling the already suffering middle-class in the US while the Feds are trying to stimulate growth by printing more money and lending them at dead-cheap rates to institutions.
From a Reuters article last month:
Brazil announced a major cut in electricity taxes on Tuesday that will lower high energy costs for industries and residential consumers, the latest attempt by President Dilma Rousseff to re-energize her country's once-booming emerging economy.

Energy Minister Edison Lobão said the tax cuts for electricity producers and distributors — first reported by Reuters in May — will "drastically" lower production costs and reduce power rates by up to 28 percent for industries and 16 percent for households.

"This is the biggest reduction in electricity rates that the country has ever seen," Rousseff said after signing the measures before an audience of business leaders.

"Reduced energy costs … will improve Brazil's international standing, slow inflation and encourage investment," said Rousseff, a former energy minister. "It will benefit both the businessman and the consumer."

Consumers will begin to see lower-cost electricity a s of February 5, an Energy Ministry spokesman said.
After the above announcement investors dumped electric utility stocks since their profit margins will be hurt. As the new regulations do not impact water utilities investors have bid up the share price of the water utility Sabesp. Accordingly Sabesp is the best performing Brazilian ADR year-to-date with a gain of about 55.0%.
The majority of electricity produced in Brazil come from hydropower. In fact, the country generates so much electricity cheaply that it exports the excess power to neighboring countries. Since hydropower generation has high initial fixed costs and lower operational costs compared to producing power from other sources, the adverse impact of lower prices on Brazilian electric utilities should decline as consumption increases. Hence these stocks offer an attractive entry point now with their high dividend yields and cheap share prices. While it is certainly possible that some firms may decrease or even suspend dividend payments in the short-term, investors holding shares for a few years should be rewarded with strong returns.
Brazilian electric utilities trading on the US exchanges are listed below with their current dividend yields and year-to-date (YTD) price changes:
1.Company: Companhia Energetica de Minas Gerais-CEMIG (CIG)
Current Dividend Yield: 14.04%
YTD Change: -14.05%
2.Company: CPFL Energia (CPL )
Current Dividend Yield: 6.58%
YTD Change: -20.24%
3.Company: Comp. Paranaense de Energia-COPEL (ELP)
Current Dividend Yield: 5.24%
YTD Change: -25.79%
4.Company: Centrais Eletricas Brasileiras-Eletrobras (EBR)
Current Dividend Yield: 10.17%
YTD Change: -40.78%
Brazilian utility utilities trading on the OTC markets are listed below with their current yields and year-to-date (YTD) price changes:
1.Company: AES Tiete (AESYY)
Current Dividend Yield: 14.61%
YTD Change: -30.43%
2.Company: Centrais Elet. de Santa Catarina-Celesc (CEDWY)
Current Dividend Yield: 0.99%
YTD Change: -9.82%
3.Company: Comp. de Transmissao-Paulista (CTPZY)
Current Dividend Yield: 22.29%
YTD Change: -48.32%
4.Company: Comp. Energetica de Sao Paulo-CESP (CESDY)
Current Dividend Yield: N/A
YTD Change: -29.65%
5.Company: Comp. Paranaense de Energia-COPEL (ELPVY)
Current Dividend Yield: N/A
YTD Change: -17.92%
6.Company:Light SA (LGSXY)
Current Dividend Yield: 12.02%
YTD Change: -26.36%
7.Company: MPX Energia (MPXEY)
Current Dividend Yield: N/A
YTD Change: -38.03%
8.Company: Tractebel (TBLEY)
Current Dividend Yield: 4.52%
YTD Change: -1.56%
Note: Dividend yields noted are as of Oct 12, 2012
Disclosure: No Positions
Update:
Chart comparing of Brazilian electricity prices against select countries
Click to enlarge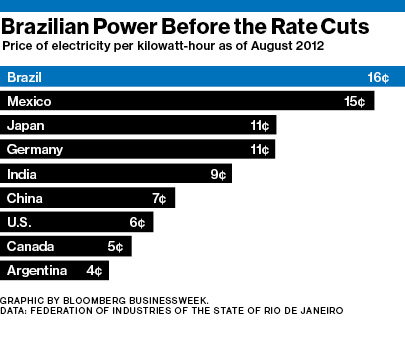 Source:  Brazil's Cheaper Electricity Comes at a Cost (Bloomber BusinessWeek, Feb 7, 2013)