Chile has one of the most vibrant and growing economies in Latin America with a GDP of about $203.0 billion in 2010. Though some investors consider the Chilean economy as a commodity-based economy other industries contribute a significant part to the economy. For example, the financial services industry accounted for 16% of the GDP in 2010.
The Top Ten Chilean Banks based on revenues in 2010 are listed below:
Click to enlarge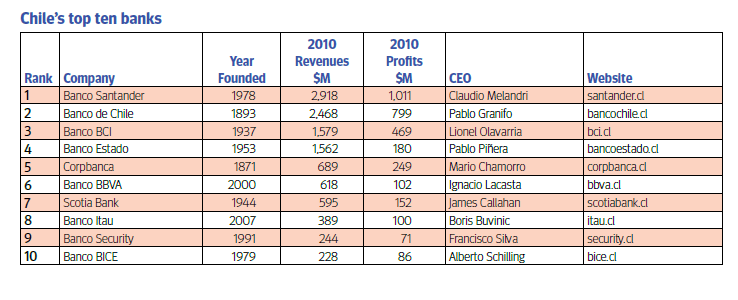 Source: Doing Business in Chile, KPMG
Among the top banks noted above, Banco de Chile (BCH), Banco Santander (BSAC) and CorpBanca (BCA) trade on the US markets as ADRs. Currently they have dividend yields of 4.47%, 4.01% and 81.9% respectively. For US investors, the Chilean government will deduct a withholding tax of 35.0% from dividend payments.
Note: Dividend yields noted are as of June 1, 2012
Disclosure: Long BCH and BCA