Commodities are high risk investments that most retail investors should avoid. However in recent years Wall Street has pushed commodities heavily on investors as a  "safe" investment with the introduction of ETFs and other tools. Investing in commodities is not a good idea for retail investors as commodities tend to be highly volatile, most of them do not produce a regular income in the form of dividends like stocks, prices vary based on a multitude of factors such as demand and supply, weather, futures markets, etc. Some of the concepts involved in commodities market is not easy to understand for most investors. The concept of "Contango" that heavily impacted the oil market a few years is one such example.
The performance of commodities and equities are usually not correlated. However in the past few years the correlation was strong with commodities and equities following one another. The following chart shows the correlation between commodities and equities since 2007:
Click to enlarge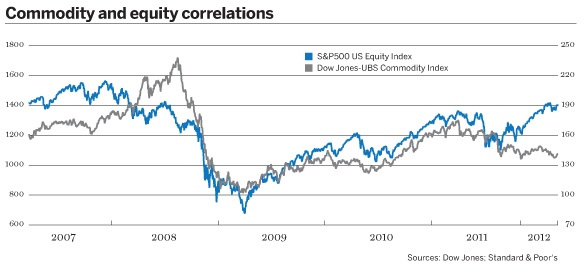 From Commodity correlation causes headache for investors in The Banker magazine:
The reputation of commodities as a diversification tool has taken a battering of late, as prices have seemingly moved up and down in intractable harmony. However, there is a little agreement over whether high levels of correlation are the new normal, or a symptom of the financial crisis that will fade with time.

Correlation in commodities is manifested in one of two ways – either as price co-movements between individual commodities, or against other asset classes, such as bonds and equities. The recent bout of correlation presented initially within commodities but ultimately mushroomed into high levels of synchronisation across all asset classes.

A key year in the rise of correlations was 2005, when the price of food began to rise rapidly, reversing decades of decline. The price of wheat in January 2006 was $167 a ton, according to the International Monetary Fund. By early 2008, it had spiralled to $481 a ton, sparking riots on the streets of 30 countries.
Related ETFs:
SPDR S&P 500 ETF (SPY)
iShares GSCI Commodity-Indexed Trust (GSG)
United States Commodity Index Fund (USCI)
PowerShares DB Commodity Index Tracking Fund (DBC)
United States Oil Fund LP (USO)
Disclosure: No Positions