Chile is one of the attractive markets for income investors. Among the major emerging markets, Chile is one of the widely followed ones due to its importance of commodities especially copper and lithium. Next to Mexico, the Chilean equity market can be considered as the most stable and well developed equity market in Latin America. One of the unique qualities of Chilean companies is that by law a certain portion of profits each year have to be paid out to shareholders as dividends.
The top 10 dividend stocks by yield in Chile are shown in the chart below:
Click to enlarge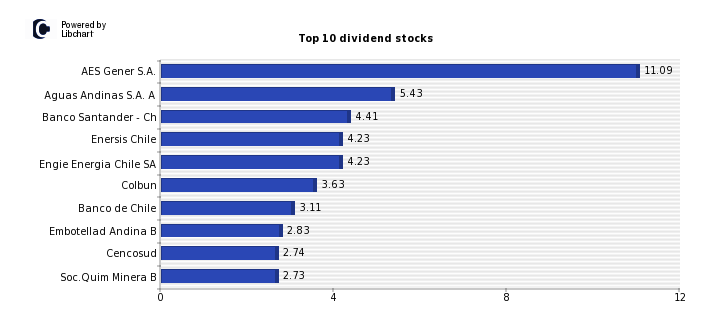 Note: Data shown is as of April 20, 2018 and is based on the domestic market.
Source: Dividend Ranking
Banco Santander- Chile (BSAC) and Banco de Chile (BCH) are consistent well paying dividend payers. Sociedad Química y Minera de Chile (SQM) has attracted global investors' attention in recent years due to the voracious demand for lithium which is used in the batteries of Electric Vehicles(EVs).
Disclosure: Long BCH