The Department of Foreign Affairs and Trade of Australia released the Composition of Trade Australia 2010 report today. The following are some of the key takeaways from the report:
In 2010, China was the largest trade partner of Australia with total trade growing 23.6% to over A$100 billion for the first time which lead to a trade surplus of A$16.8 billion.
The top commodity exports to China were of iron ore and concentrates, coal  and other ores.
Japan remained the second largest two-way trade partner followed by USA.
Australia's exports increased 13.9% to A$284.6 billion and imports rose by 5.4% to A$267.8 billion last year.
After China, Japan was the second largest export market for Australia followed by South Korea.
Australia's Major Trade Partners in 2010
Click to enlarge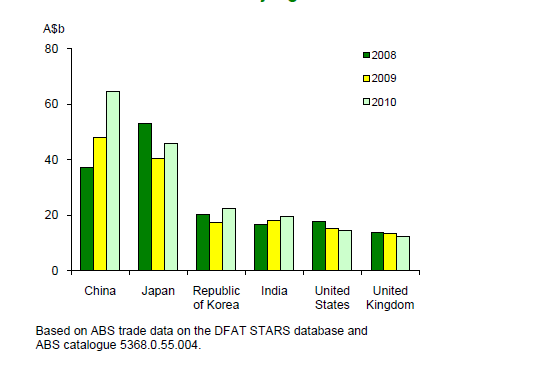 Australia's Top 10 Merchandise Exports and Imports in 2010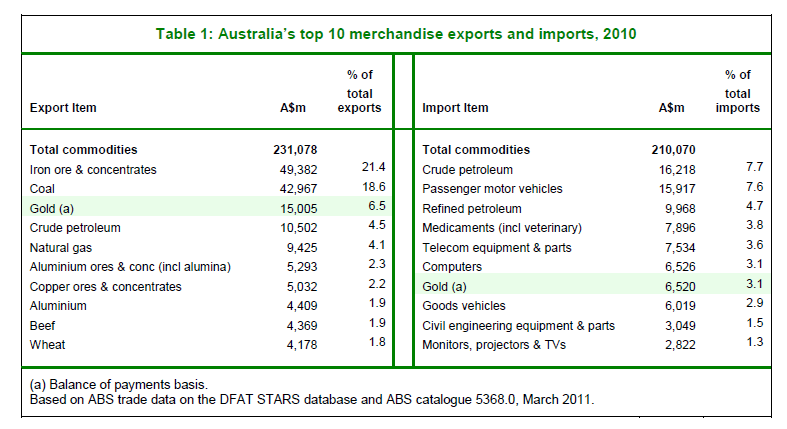 Source: Composition of Trade Australia 2010
Related:
Australia's Major Trading Partners in 2012
Related ETF:
iShares MSCI Australia Index Fund (EWA)
Disclosure: No Positions