Traditionally investors have preferred large cap companies in developed countries when it comes to investing for dividend income. This is because many of the large companies in Western Europe, Canada, the U.S. and other developed markets are established companies with defined dividend payout policies and have history of rewarding shareholders with cash in the form of dividends. Investors rarely considered emerging market equities for their dividend potential. However this view is slowly changing and smart investors are heading to the emerging markets of Latin America and Asia hunting for dividend stocks. Asia is increasingly becoming an attractive destination for dividend investors.
Some of the reasons for investing in Asian equities for dividend income are:
The dividend yield for Asian equities overall is about 3%.
More than 80% of Asian companies are paying out some form of dividends.
Dividends accounted for 37% of the total returns from Asian markets over the past two decades according to Goldman Sachs, Global Investment Research, October 2010.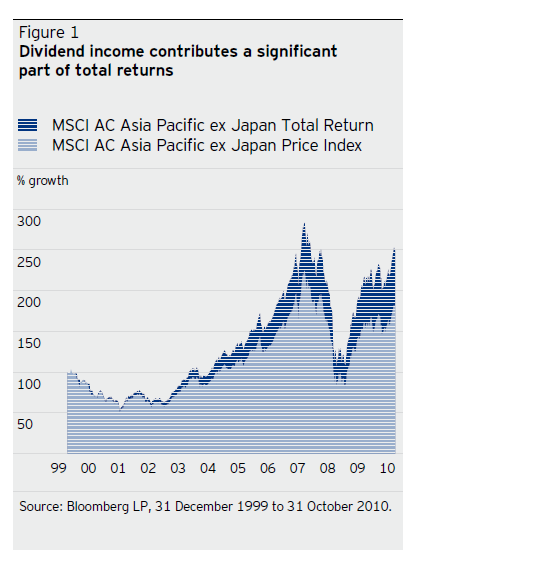 Dividend levels are rising across Asia and the region offers extensive diversification across countries and sectors.
Corporate culture is changing as more companies are paying a higher portion of their earnings as dividends in order to attract both domestic and foreign investors.
Many Asian companies have dividend yields equivalent to or higher than those of their European and US peers.
The dividend culture in Asia began to change 10 years ago and is now well-established in Singapore, Thailand and Taiwan.
The average percentage of earnings paid out in dividends has now grown to 40% from 30% in the 1990s.
Source: Invesco Perpetual Asian Equity Income Fund and Trustnet of UK
Hundreds of Asian companies trade as ADR on the US markets. Ten randomly-selected ADRs from ten Asian countries are listed below with their current dividend yields:
1.Company:Chunghwa Telecom Ltd (CHT)
Current Dividend Yield: 4.86%
Sector: Telecom
Country: Taiwan
2.Company:United Overseas Bank Ltd (UOVEY)
Current Dividend Yield: 3.94%
Sector: Banking
Country: Singapore
3.Company:HDFC Bank Ltd (HDB)
Current Dividend Yield: 0.47%
Sector: Banking
Country: India
4.Company:Philippine Long Distance Telephone Co (PHI)
Current Dividend Yield: 6.64%
Sector: Telecom
Country: Philippines
5.Company:Woori Finance (WF)
Current Dividend Yield: 1.77%
Sector: Banking
Country: South Korea
6.Company:City Telecom (CTEL)
Current Dividend Yield: 5.38%
Sector: Telecom
Country: Hong Kong
7.Company:Telstra Corp Ltd (TLSYY)
Current Dividend Yield: 8.81%
Sector: Telecom
Country: Australia
8.Company:Telekomunikasi Indonesia (TLK)
Current Dividend Yield: 7.66%
Sector: Telecom
Country: Indonesia
9.Company:Telecom Corporation of New Zealand (NZTCY)
Current Dividend Yield: 5.60%
Sector: Telecom
Country: New Zealand
10.Company:Malayan Banking Bhd (MLYBY)
Current Dividend Yield: 8.22%
Sector: Banking
Country: Malaysia
Note: Dividend yields noted are as of June 1, 2011
Disclosure: No Positions