Many foreign markets have performed better than the US market in the past decade. When investing in international stocks most investors tend to stick with large caps. However foreign small and micro caps offer better investment opportunities over their large cap peers.
Six reasons to invest in foreign small and micro cap equities are listed below:
Small and micro cap publicly-listed foreign companies represent 90% of the  investing universe in foreign markets.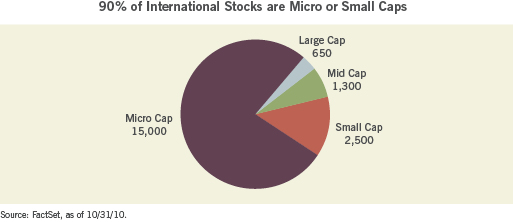 Similar to the U.S. market, small caps have historically performed better than large caps in overseas markets due to many factors such as their ability to respond to market changes quickly, leaner structures, etc. S&P projects foreign small and micro caps to outperform this year and next.
Most of the foreign small cap stocks are "undiscovered gems"since most Wall Street analysts and fund managers do not follow them.
Many small caps trade at attractive valuations and their earnings are projected to beat large caps for the next few years.
Despite their volatility, foreign small micro cap stocks can offer excellent diversification benefits to a portfolio due to their low correlation with the U.S. equities as shown in the graphic below:

Small caps generally yield higher returns than large caps. For the decade ending in 2009, international small and micro cap stocks generated average annual returns of more than 9% which is much higher than U.S. and foreign large cap stock returns.
Source: Think International, Think Small, Wasatch Funds
The best way to invest in overseas small and micro cap stocks is via ETFs. Some of the ETFs are listed below:
Disclosure: Long GWX