Generally small and mid-cap stocks perform better than large cap stocks due to the higher risk involved in them. Small and midcaps can be extremely volatile and are not suited for all investors. However instead of picking individual stocks, one simple way to gain gain exposure to them is via ETFs. A recent article in the Journal notes that smallcaps and midcaps have outperformed large caps in the last decade but their valuations look stretched after this great run up. Large caps look attractive at current levels.
From the article:
The S&P 500 has gained just 14.1%, including dividends, over the 10 years through Friday, and remains more than 20% off its 2007 high. The S&P 400, meanwhile, has surged 72% over the past decade, and traded at 939.56 on Monday, its highest ever. The S&P SmallCap 600 has jumped 77% during the period.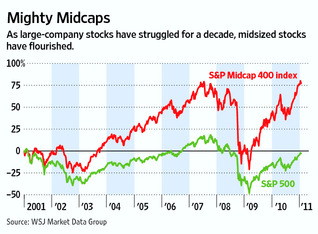 Source:The Wall Street Journal
In 2010, small and midcaps yielded double the total returns of S&P 500.
Related ETFs:
SPDR S&P 500 ETF (SPY)
iShares S&P SmallCap 600 Index Fund (IJR)
iShares Russell 2000 Index Fund (IWM)
Vanguard Small-Cap ETF (VB)
A complete list of Smallcap and Microcap ETFs can be found here.
Disclosure: No Positions