In this post, let me list some of the Tier 1 gold miners and a few copper miners. But before we get into the list, here are some interesting facts about gold:
US Gold Reserves totaled 8,133.5 tons in September 2008, accounting for 76.5% of its forex reserves
Japan holds 765.2 tons of gold which accounts to 1.9% of its forex reserves
China's gold reserves amounted to 1,054 tons in 2009 which was a 76% increase in six years and accounts for 1.9% of its forex reserves
China surpassed South Africa as the world's largest gold producer in 2007
China beat India as the world's largest gold consumer in 2009
From the World Gold Council:
"The value of gold, in terms of the real goods and services that it can buy, has remained largely stable for many years. In 1900, the gold price was $20.67/oz, which equates to about $503/oz in today's prices. In the five years to end-December 2008, the price of gold averaged around $606. So the real price of gold has endured a century characterised by sweeping change and repeated geopolitical shocks and more than retained its purchasing power. In contrast, the real value of most currencies has generally declined."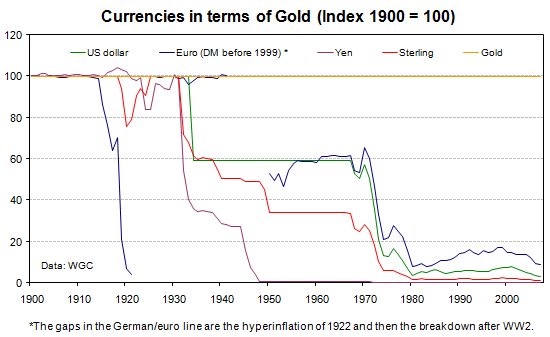 Some of the Global Tier1 Gold Miners are:
1. Company: Yamana Gold Inc (AUY)
Country: Canada
2. Company: GoldCorp Inc (GG)
Country: Canada
3. Company: Polyus Gold (OTC: OPYGY)
Country: Russia
4. Company: Harmony Gold Mining Company Ltd (OTC: HGMCF)
Country: South Africa
5. Company: Lihir GOld (LIHR)
Country:Papua New Guinea
6. Company:AngloGold Ashanti(AU)
Country: South Africa
7. Company: Zijin Mining Group Ltd
Country: China
8. Company: Barrick Gold Inc (ABX)
Country: Canada
9. Company: Newcrest (OTC:Â  NCMGY)
Country: Australia
10. Company: Gold Fields
Country: South Africa
11. Company: Kinross Gold Corp (KGC)
Country: Canada
12. Company: Newmont Mining Inc (NEM)
Country: USA
13. Company: Compania de Minas Buenaventura SA (BVN)
Country: Peru
14. Company: Freeport McMoRan Copper and Gold Inc (FCX)
Country: USA
For investors that prefer to invest in gold via an ETF, the SPDR Gold Shares Trust (GLD) offers one option. This ETF tracks the price of gold. The Trust's allocated gold bullion is kept in the form of London Good Delivery bars with custodian HSBC Bank USA in its London vault or in the vaults of sub-custodians. The fund has $39B in assets and the expense ratio is 0.40%. Zijin Mining Group Ltd is one of the largest gold producers in China.
Related:
The List of Diamond Mining Stocks by Country
The World's Top Diamond-Producing Countries