Gold is an important asset to own in a well diversified portfolio. Unlike fiat currencies gold is considered as a store of value that will stand the test of time. For millennia humans have always been attracted to the yellow metal for its purity and value. In modern times, though equities have become popular the world over gold is still an asset that is coveted by investors during good times and bad times. During periods of economic contractions or volatility in other markets, gold offers a refuge to protect one's assets. With that brief intro, let's take a quick look at ten things about gold.
1.Gold is traded 24 hours a day worldwide under the ticker XAU.
2.The London Bullion Market (LBMA) is considered as the industry benchmark, with the spot price set twice daily at 10:30am and 3:00pm GMT in US dollars.
3.Continuous trading at all hours of the day happens on the OTC markets and the futures markets (e.g.. CME of the US, LME of the UK, etc.).
4.Here is an excerpt from the Market Index site on what drives the price of gold:
1. Central Banks
Net purchases of gold by central banks can affect the price.

2. U. S Dollar Value
When the USD is strong, people are more optimistic and prefer to trade in USDs, pushing the price of gold down.

3. Economic Uncertainty
Gold is seen as a "safe haven" to store wealth during volatile and uncertain times.

4. Worldwide Jewellery Demand
Around half of all gold demand is driven by jewellery with China, India and the US being primary buyers.
5. The gold "spot price" refers to the current market price in US dollars for a troy ounce (31.1g) of 99.99% pure gold. Most websites list this price. For instance, as per Kitco the spot price gold on Oct 13, 2023 is $1,920.90.
6.Gold is measured in "troy ounces" instead of the regular ounces. The difference in measurement is:
1 troy ounce = 31.1035g
32.1507 troy ounces=1kg
One regular ounce is 28.3495g.
7.Over the long-term the price of gold has gone considerably as shown in the chart below: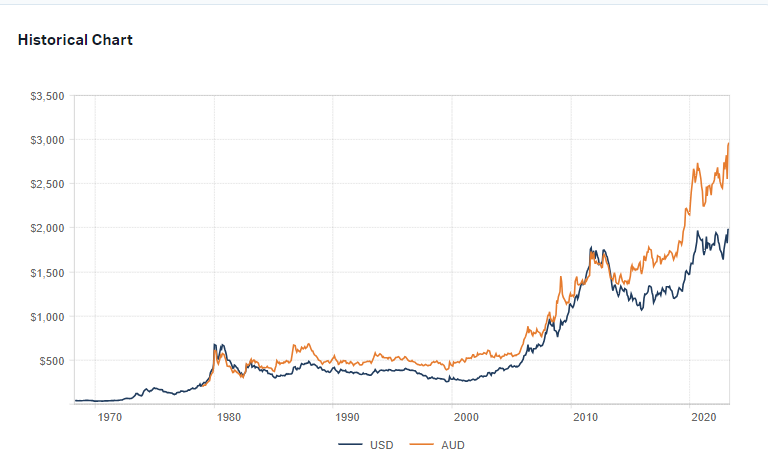 8. London-based The World Gold Council is the organization representing the global gold industry.
9. The largest gold Exchange Traded Trust is the SPDR Gold Shares (GLD). It holds the assets in physical gold. As of Oct 13, 2023 it held 862 Tonnes of gold. The asset base of this trust is over $51.0 billion. Gold investors can invest in this trust or in gold mining company stocks or via other products.
10.The top five gold companies based on production in 2022 are listed below:
Source: Market Index