The current yield on the S&P 500 is just over 2%. Last year the yield was 2%. Many foreign markets offer higher dividend yields than the U.S. This is especially true with most developed countries.
In 1979, the S&P 500 had a 5.53% yield. But since 1990, it has steadily decreased  and reached a low of 1.89% in 2007. In 2008, the yield rose to 3.11%. The current yield of just over 2% is very low. This is because many U.S. companies believe in reinvestment or retained capital as opposed to paying out a higher portion of profits to investors as dividends. In November last year, the Journal reported that the 500 largest non-financial companies by assets in the U.S. had stashed about $994 billion in cash and short-term investments.
The chart below shows the current dividend among G-7 countries: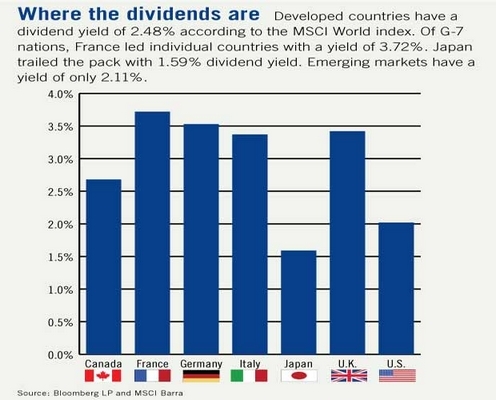 Source: Pensions & Investments
Except Japan, all other countries have higher yields than the US. European companies traditionally have had higher payout ratios and continue to follow that policy.
The following 13 Foreign Stocks have Dividend Yields of Over 5%:
[TABLE=412]