The country of Botswana in Africa is the biggest producer of diamond in the world by value. The second and third top producers are Russia and Canada respectively. It is interesting to note that Canada is the third largest producer of diamonds.
The Top Diamond-Producing Countries: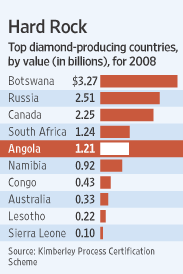 Source: The 'Blood Diamond' Resurfaces, The Wall Street Journal
An estimated 65% of the world's diamonds come from African countries according to Diamond Facts site.
Some of the Top Diamond Mining Companies are:
De Beers
Rio Tinto (RTP)
Alrosa
Harry Winston Diamond
Petra Diamonds
Gem Diamonds
Also checkout:
The Top Five Gold Producing Countries

The List of Diamond Mining Stocks by Country
The List of Global Tier 1 Gold Mining Companies
What Countries Produce Gem Diamonds? – Diamond Production Map (Geology.com)
Diamond (Wikipedia)
DIAMOND PRODUCING COUNTRIES IN AFRICA FACT SHEET  (World Diamond Council)