The Top Ten Australian Banks based on Assets and Deposits as of June 2009 are listed below. This list was compiled with data from the "Monthly Banking Statistics" report released by the Australian Prudential Regulation Authority (APRA) on July 31st.The Top Ten Australian Banks by Assets
[TABLE=175]
The Top Ten Australian Banks by Deposits
[TABLE=174]
The five large banks in terms of both assets and deposits are Commonwealth Bank of Australia,National Australia Bank Limited, Westpac Banking Corporation,Australia and New Zealand Banking Group Limited and St.George Bank Limited. Assets is defined as the "Total gross loans and advances" in the APRA statistics report.Except St.George Bank, all the other four banks are also the Australia's most valuable brands according to BrandFinance. In 2008, these four banks were in the top 10 list with National Australia Bank Limited ranked as the number one brand.
Australian companies usually have high dividend payout ratios and dividend yields as shown in the chart below: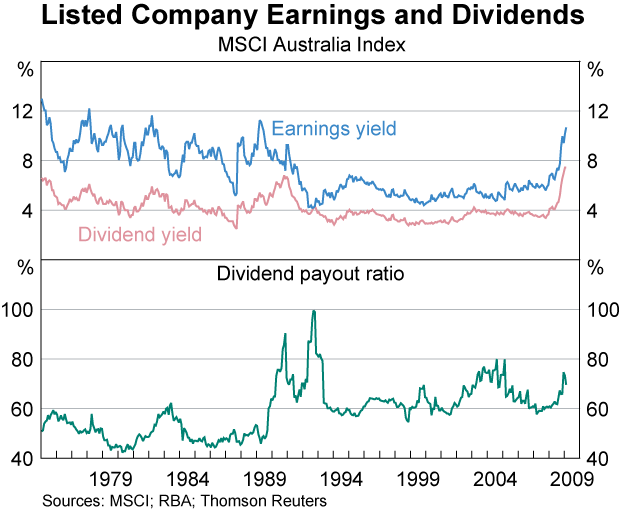 The current yields of the top 5 banks are shown below:
Commonwealth Bank of Australia(OTC: CMWAY)
Dividend Yield: N/A
Started trading from March this year
National Australia Bank Limited(OTC: NABZY)
Dividend Yield: 5.18%
Westpac Banking Corporation(WBK)
Dividend Yield: 4.63%
Today Westpac posted earnings of $1.1 billion in the first quarter but bad debt went up to to $865 million from $811 due to deterioration in commercial real estate and New Zealand.
Australia and New Zealand Banking Group Limited(OTC: ANZBY)
Dividend Yield: 4.57%
St.George Bank Limited(OTC:STGKY)
Dividend Yield: N/A
Australian housing market has held up well since the recession began as the demand for housing is high but the supply is down. As the domestic economy and the Asian countries recover Australian banks must do well.