One of the factors considered by investors when selecting a country for investment is the amount of deficit/surplus held by that country.Generally surplus countries are better than deficit countries.
The following chart shows the general government deficit/surplus as a percentage of GDP countries in Europe as of 2008: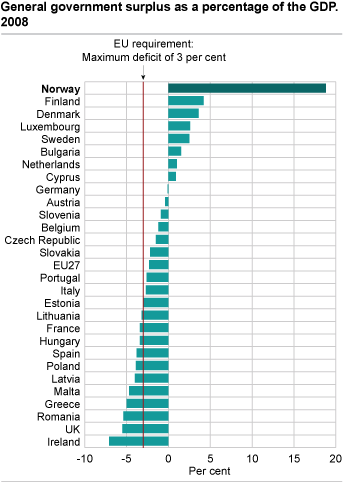 Source: Statistics Norway
Scandinavian countries top the ranks of surplus countries in Europe. Norway had the most surplus in Europe with about 18% of GDP followed by Finland, Denmark, Luxembourg and Sweden. The countries with the highest deficits were Ireland, UK and Romania. Deficits in Ireland and UK were more than the double of the maximum EU requirement. Many of the East European countries such as Latvia, Estonia, Lithuania have high deficits. The economy of these Baltic countries fell heavily last year during the height of the credit crunch.Similarly the British and Irish economies collapsed as well.
Related ETFs:
Global X FTSE Nordic 30 ETF (GXF)
iShares MSCI Sweden Index (EWD)
iShares MSCI Netherlands Investable Market Index (EWN)
iShares MSCI Germany Index (EWG)