In this post, lets review the top banks of Canada.Specifically we will analyze the Canadian bank stocks that trade as interlisted stocks in the US.
Photo: Toronto Skyline
The following are some of the large banks in Canada:
1. Royal Bank of Canada
2. Bank of Nova Scotia
3. Bank of Montreal
4. TD Canada Trust
5. Canadian Imperial Bank of Commerce (CIBC)
6. ING Direct Canada
7. President`s Choice Financial
8. Business Development Bank of Canada (BDC)
9. National Bank of Canada
10. HSBC Canada
In the above, ING Direct, HSBC Canada and President`s Choice Financial are online banks.Business Development Bank of Canada is for National Bank of Canada trades in the Toronto Stock Exchange (TSX) only with ticker "NA".Business Development Bank of Canada is a government bank that offers loans and other services to businesses. Besides the above banks there are many credit unions such as the Desjardins group based in Montreal,Quebec.There are many other local and smaller banks and credit unions in the country.
Out of the above ten banks, the first five are the top national banks with each having thousands of branches all over Canada. Fortunately all these banks trade as interlisted stocks as well in the US for the benefit of US investors.
The TOP BANK in Canada is the "Royal Bank of Canada" due to the following reasons:
1. Most Profitable bank.
2. Largest Market Capitalization.
3. Largest Asset base.
4. Consistent long-term performance of stock.
5. Excellent dividend yield and dividend growth rates.
The next top bank is Bank of Novo Scotia.
Canada is a large country blessed with bountiful of natural resources. Canadians save a high portion of income compared to Americans.This savings flow and the funds received by Canadian companies from exporting the natural resources all end with the top five banks.One big problem for the cash-rich Canadian banks is that there is not much room to
grow in Canada.The population is small and the market is already saturated.So these banks head to other countries to invest their capital.That means they try to grow in places that they feel comfortable dealing with such as the US, Caribbean, Chile, Mexico, etc.
Canadian banks have heavy exposure to US since they have acquired many US banks,brokers and have operations here.For example, Bank of Montreal owns the Harris Bank in Chicago.TD Bank bought Commerce Bank in the North East and a few other banks.And it owns the former Ameritrade now renamed as TD Ameritrade.Royal Bank owns the Centura banks in North Carolina. Scotiabank has a major presence in the Caribbean countries, Mexico and Chile.CIBC has operations in the Caribbean countries.
All these banks have big investment banking operations as well like RBC Capital Markets of Royal Bank.
A brief overview of the five banks:
1. Royal Bank of Canada – RY
RY has a dividend yield of 4.41% and a PE ratio of 12.15.Outstanding shares total 1.3 Billion.The dividend growth for the past 3 years is 21.69% which is more than double the
industry average. In the $40 range the stock is attractive.
2.Bank of Nova Scotia – BNS
Another Canadian bank with almost a billion shares out- 987.7 M shares to be exact.BNS has a dividend yield of 4.09% and a beta of 0.9.The 3-year dividend growth is 16.5%. BNS has lots of potential to grow due to its overseas operations.Widely known by its cute name "ScotiaBank".
3. Bank of Montreal – BMO
BMO has a dividend yield of 6.06% and a 3-year dividend growth of 19%+. The bank wrote down a lot of money some months ago due to losses in the subprime meltdown.Thats why the stock went down from 60s to 40s now raising the yield to this high.
4. TD Canada Trust – TD
TD has a dividend yield of 3.94% and about 804M shares outstanding.TD has not been affected adversely like BMO and other major financials. Stock is now trading near the 52 week high.
5. Canadian Imperial Bank of Commerce – CM
CM has dividend yield of 5.85% and a market cap. of about $21B. Like BMO, CM went down a lot recently.3-year annual growth rate has been 12%+.CM is probably the least popular stock among the five banks.
5-Year Chart of all Five Canadian Bank interlisted stocks.: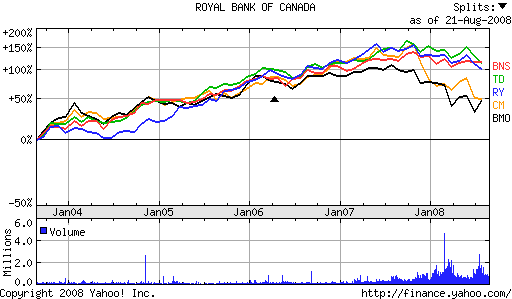 Related Links:
The Best Banks of the World 2008
Wikipedia- List of banks in Canada
Canada Stocks List !!