Recently there was an article in the Legal Affairs magazine about Malaysia. The article mentioned that researchers have concluded a country's legal system is a major that determines its success or failure in overall growth. Thoughtfully they agreed that this factor was in addition to other traditional factors like political system, economic policies, etc.
The article mentioned that Malaysia has advanced so much when compared to Indonesia though they share many things in common such as Islam as the main religion, former colonies of major powers, commodity based economy, etc. The reason for Malaysia's success was attributed to its legal system which is based on the British legal system since Malaya used to be a colony of Great Britain.
On the other hand, Indonesian legal system is based on the Dutch legal system. Holland used to be the colonial master of Indonesia.The Dutch legal system is based on the Napoleonic French legal system which is considered inferior to the British one. Hence Indonesia which followed the Dutch system remains a poor country whereas Malaysia has prospered after Independence from UK.This kinda made me thinking about another question:
Why does Malaysia lag Singapore in terms of economic growth?
Singapore is a tiny island city state neighboring Malaysia. But Singapore is today considered a first world country where Malaysia falls under the emerging market category.
I think Malaysia lags Singapore in many aspects because of its political system which is influenced heavily the predominant religion. Malaysia has been unable to invest and promote high tech "knowledge" based industries such as IT. The famous Petronas Towers in Kuala Lumpur was built to house many of the IT and other hi-tech companies that were to start operations. But that never materialized and today the majority of the building is occupied by the oil company and other regular foreign multinationals. Today Malaysia remains a commodity driven economy based on oil palm and other natural resources. Malaysia recently discovered oil offshore and hence is a net exporter of crude oil. Malaysia is an example to prove that a country does not need more land or people to become a first world nation.
Singapore has not much land at all. The island can be crossed from one end to the other in less then 30 minutes. The population is small as well. When Singapore broke off from Malaysia and became an independent country, it implemented many successful economic policies the fruits of which are evident today. The country is not democratic by any means. It is tightly ruled by a kinda of dictatorship but there are some freedoms. Media is heavily controlled by the government. However Singapore invested in the right industries such as marine shipping, finance, IT,trading, etc. to become a global powerhouse today. Many top banks of the world are setting up shops in Singapore as it tries to attract capital from other capital friendly locales like Switzerland, Isle of Man, Bermuda,etc. The country's success can be attributed to its statesman Lee Kuan Yew who implemented the economic policies when he ruled the city state with an iron fist for many years.
Comparison of ETFs – EWS Vs. EWM:
The iShares Singapore ETF has an asset base of about $1.5B compares to iShare's Malaysia ETF EWM which has asset size of only $479M. About 50% of EWS are made up of financials. EWM has about 30%. YTD EWS is down 8.6%. EWM is down 17.6% YTD due to the crash in commodity prices world-wide.
The 5-Year Performance Chart of EWS, EWM and S&P 500 Index: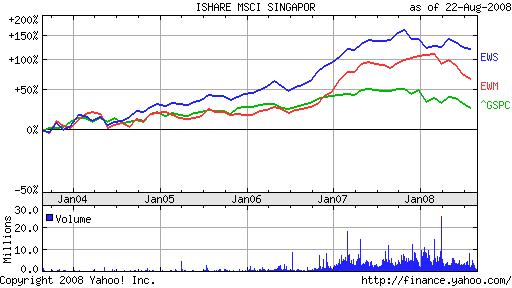 Due to the reasons mentioned above, Singapore is a better investment destination than Malaysia. Readers – What is your opinion?.
You may want to subscribe to our site's RSS feed by clicking here.