Investing in an IPO is never a smart idea for retail investors. Way too many IPOs never seem to live up to the hype. Most of them end up losers for investors with some crashing big even within a few weeks or months of going public. The latest example of one such IPO is the Vietnam-based EV maker VinFast Auto Ltd (VFS). VinFast listed on the NASDAQ thru a blank check company on August 14, 2023 with a listing price of $22 a share valuing the firm at $23.0 billion.
In just over a week the stock soared more than 250% giving the company a market value of $85.0 billion. This is shocking indeed as the firm was valued at more than established firms like Ford, Volkswagen and others.
After reaching a peak over $82 in late August the stocks closed at $5.94 on Friday which is nearly one-fourth of the IPO price:
Click to enlarge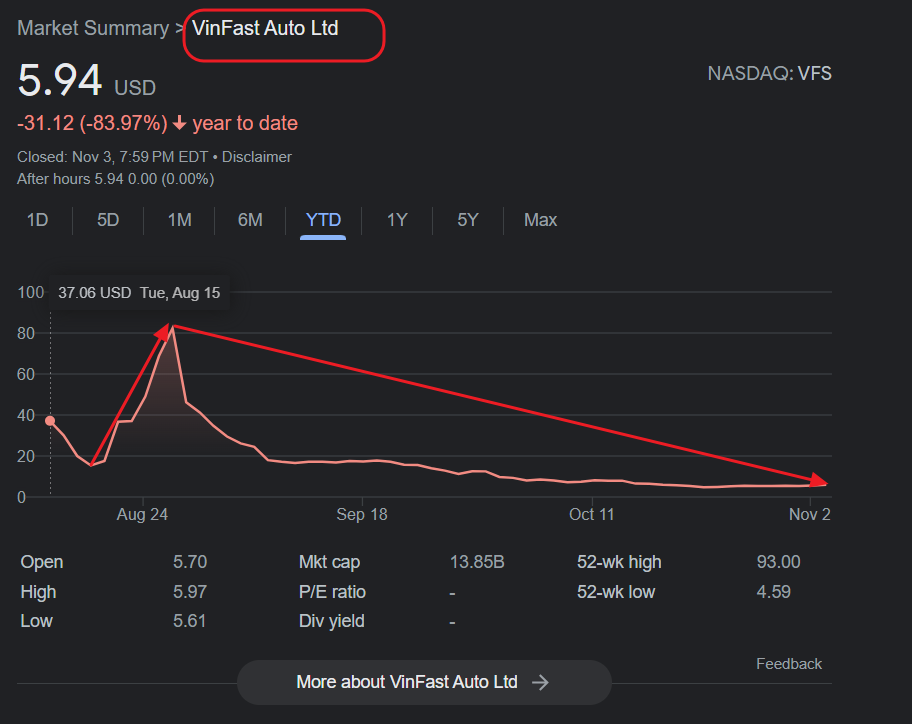 Source: Google Finance
The rise and dramatic collapse of VinFast is a classic case of why retail investors should avoid IPOs. Successful IPOs like Alphabet (GOOGL) that made made investors money are rare and finding them is like searching a needle in a haystack.
The key takeaway is that investors should avoid IPOs and instead focus on well established high-quality companies.
Disclosure: No Positions