The Renewable Energy is one of the fast growing industries in the world. As many countries try to move away from fossil fuels and raise their green industry credentials, they are allocating more funds to drive growth. Until last year renewable industry was hot and as a result investors were bidding up renewable stocks. This year though renewables have lost their momentum and many companies have seen their stock decline heavily from recent highs.
Renewable energy is here to stay and hence long-term investors should not write-off these companies. Current downturn in the sector might seem like a great time to pick shares on the cheap years from now. With that said, which firms are the top players globally in this industry?
The following table from UN's World Investment Report | UNCTAD shows the top 10 companies in terms of renewable project investment from 2015 to 2022:
Click to enlarge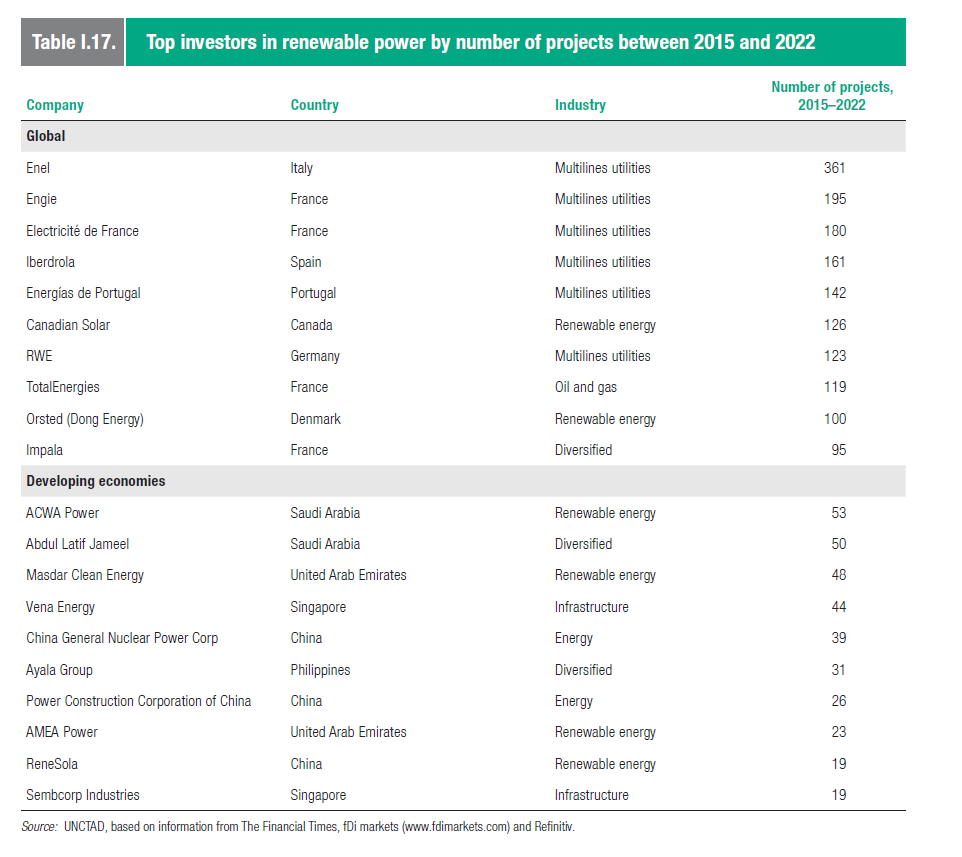 Source: World Investment Report 2023, UNCTAD
Italy's Enel(ENLAY) tops the ranking followed by Engie(ENGIY) and Electricitie de France (ECIFY) of France. European firms dominate this list with the exception of Canadian Solar of Canada. Interestingly oil and gas major Total's TotalEnergies (TTE) appears in this list.
For investors looking to explore investment opportunities in this space, the above list is a good starting point for further research.
Some of the major domestic players in renewable energy are:
Disclosure: Long RWEOY of RWE, Germany and NEE