Food company stocks are in the doldrums this year. These companies were strong performers during the past few years due to the pandemic and other factors such as continuously increasing prices. However this year sales have stagnated and consumers are no longer willing to put up with high prices and they are switching to cheaper generic options. High yields offered on CDs, bonds and other fixed income products have made their stocks unattractive as well. Investors think why they need to invest in a food stock such as General Mills(GIS) which pays a dividend yield of 3.6% when they can easily get a 5% or more in a 1-year CD. Traditionally these consumer staples have been regarded as great dividend stocks. However that is not the case now. With the restart of student loan repayments in October, the already tapped out American consumer will further cut back on pricey and discretionary food items.
With that said, it is surprising to see that Hershey(HSY) stock has performed very well so far this year among five select food stocks. In the past 5 years also, Hershey has beat others with more than doubling the share price as shown in the charts below. HSY currently has a divided of 2.29% and market cap of $43 billion.
Year-to-date price return of select food stocks:
Click to enlarge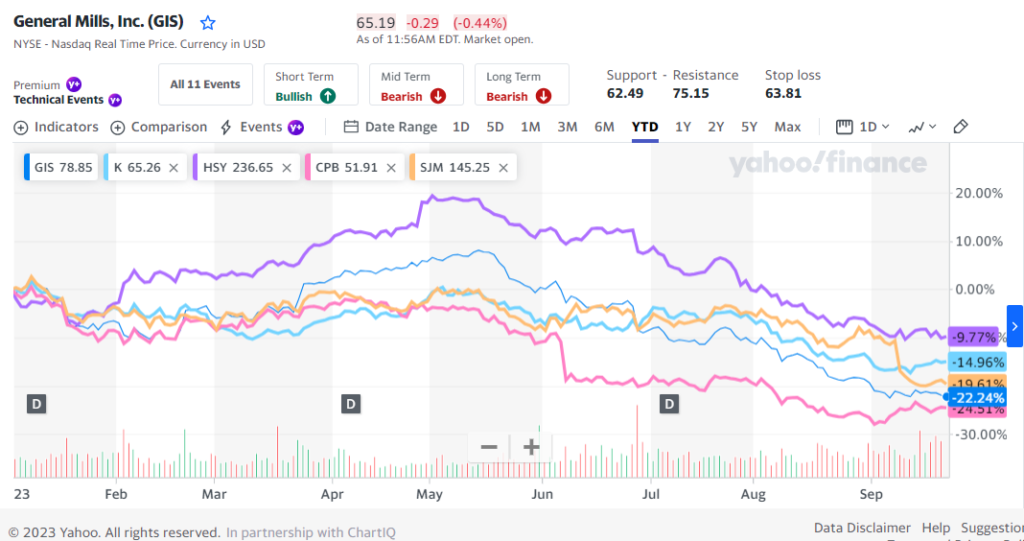 5-year price return of select food stocks:
Click to enlarge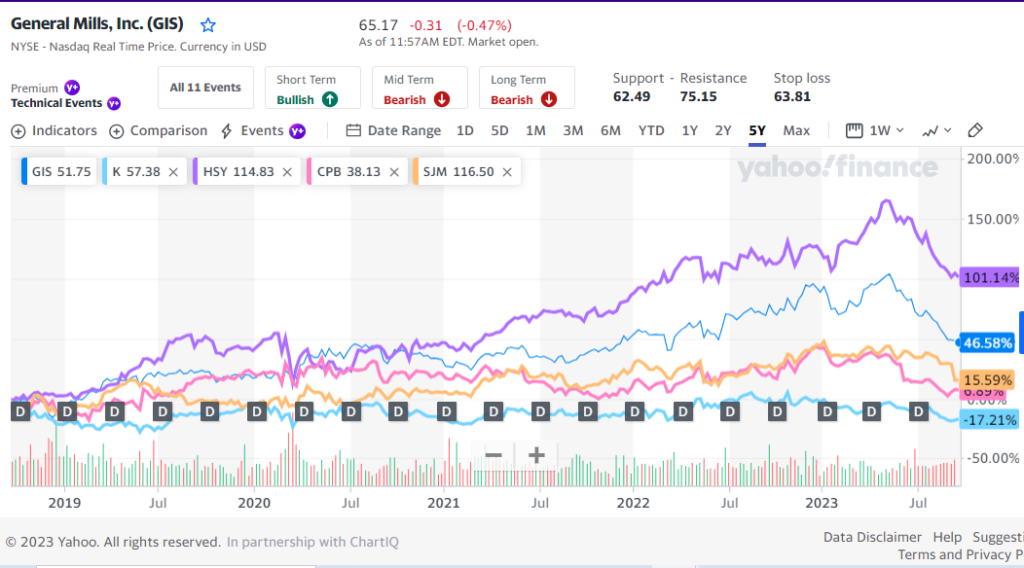 Source: Yahoo Finance
Note: The above returns do NOT include dividends and are as of Sept 22, 2023
From an investment point of view, it is better to wait for further declines and consider adding them in phases. As mentioned above, at current levels these stocks are unattractive and these companies cannot depend on price rises to juice earnings going forward.
Referenced Stocks:
Disclosure: Long GIS