Inflation in the US continues to remain stubbornly high. Currently the annual inflation rate is at 3.7% based on June data. This rate is still higher than the Fed target rate of 2%. The actual inflation rate that a consumer sees such as food, insurance premiums, etc. have risen to astonishing levels in the years since the pandemic. Inflation may rise higher due to soaring oil prices. When the price of crude oil rises it has impact on pretty much everything. To add insult to the injury so to speak, Western ally Saudi Arabia and Western enemy Russia announced cuts in their supplies to the world market in order to maintain high oil prices. This is not surprising since Saudis could always use an extra dollar to do whatever they do with all the oil revenues. Russia of course wants to take revenge on the Western world due to all the sanctions that were imposed following its invasion of Ukraine last year.
With that said, curious investors may be thinking on the relationship between oil prices and inflation. For instance, does high oil prices help drive inflation higher or lower. Inflation and oil prices are highly correlated. When oil prices go high inflation follows. The following chart shows the relationship between inflation and oil prices:
Click to enlarge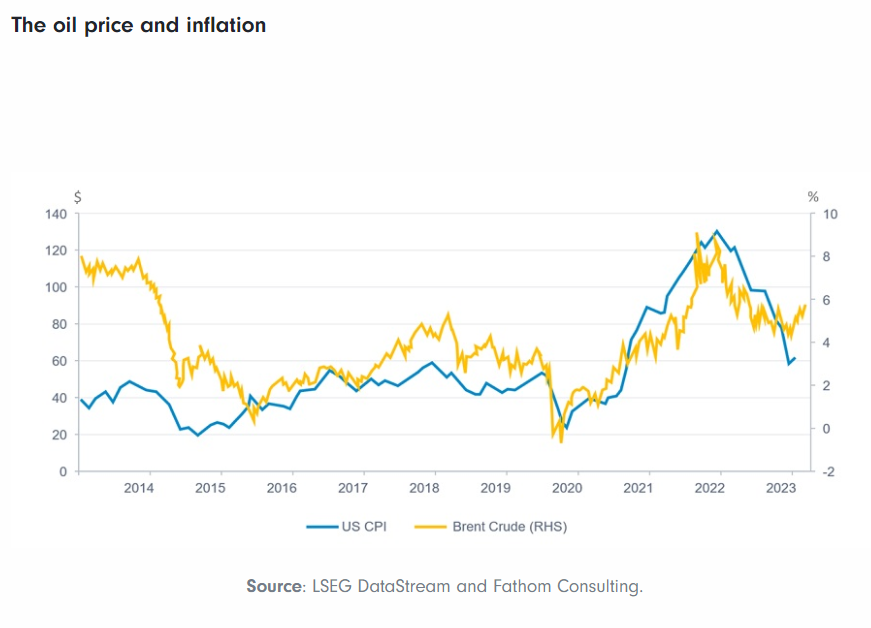 Source: 3 unmissable charts in the week: oil and inflation, US valuations and pensions by Nafeesa Zaman, Fidelity UK
The key takeaway is that investors may want to keep an eye on oil prices and be ready to buy quality should markets decline. Brent crude closed at $93.27 for November delivery. Analysts are predicting it may reach $100 again.
Related ETF:
United States Oil ETF (USO)
Disclosure: No positions