US stocks have performed very well in the past few years over their international peers. However that is not always the case. There have years when foreign stocks outperformed US stocks. The key point to remember is that the outperformance of US stocks over international stocks and vice versa rotate over the years. The following chart shows the relative outperformance from 1971 to 2022:
Click to enlarge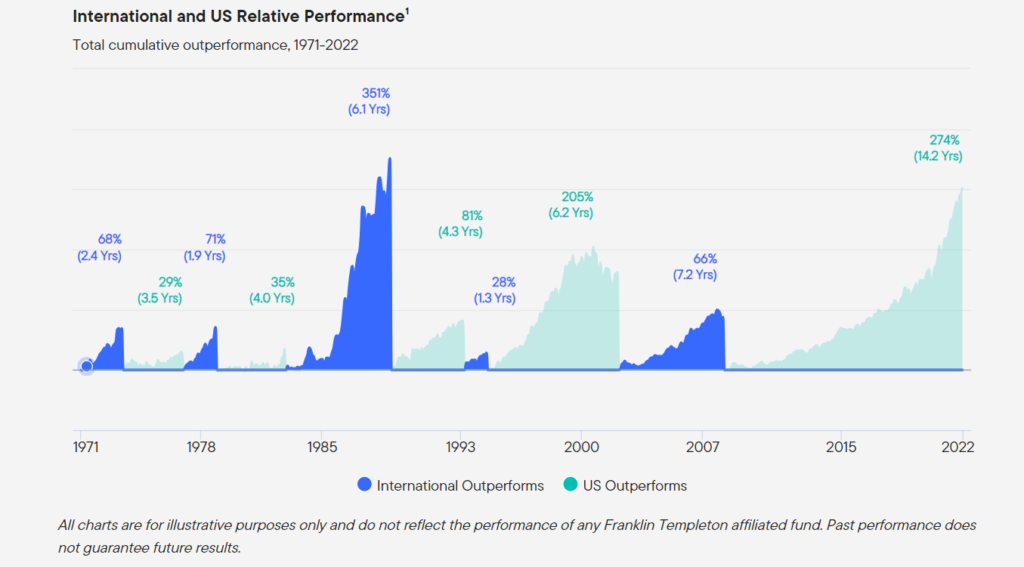 1.Source: Bloomberg, MSCI, 12/31/2022. International and US are represented by the MSCI EAFE and MSCI USA indexes, respectively. Peak to trough total cumulative performance calculated for periods of relative outperformance lasting 12 months or longer.
Source: Uncovering International Investment Opportunities, Franklin Templeton
One way to take advantage of this phenomenon is to diversify between these asset classes. Accordingly it is important to own both US and foreign stocks. Simply putting all the assets in just domestic equities is not a wise move. It remains to be seen if foreign stocks can outperform US stocks since 2022.
Relative ETFs:
SPDR S&P 500 ETF (SPY)
Vanguard Developed Markets Index Fund ETF(VEA)
Vanguard MSCI Emerging Markets ETF (VWO)
Disclosure: No positions