Canadian Pacific(CP) is the top performer in terms of returns so far this year. Of the three American railroads only Union Pacific(UNP) is the positive territory.
Norfolk Southern Corp(NSC)'s stock has been punished by the market due to uncertainties surrounding the train derailment that occurred in February, 2023 in East Palestine, Ohio. Though lawsuits have been filed many analysts agree that legal and other expenses are not expected to adversely impact the company's earnings. This is because all railroads have insurance to cover such scenarios and in this case Norfolk took several mitigation measures to help the residents impacted. So from an investment point of view analysts have said that the stock is a good long-term buy at current levels. From a high of around $300, the stock has declined to as low as under $200 and closed on Friday at $206.
Click to enlarge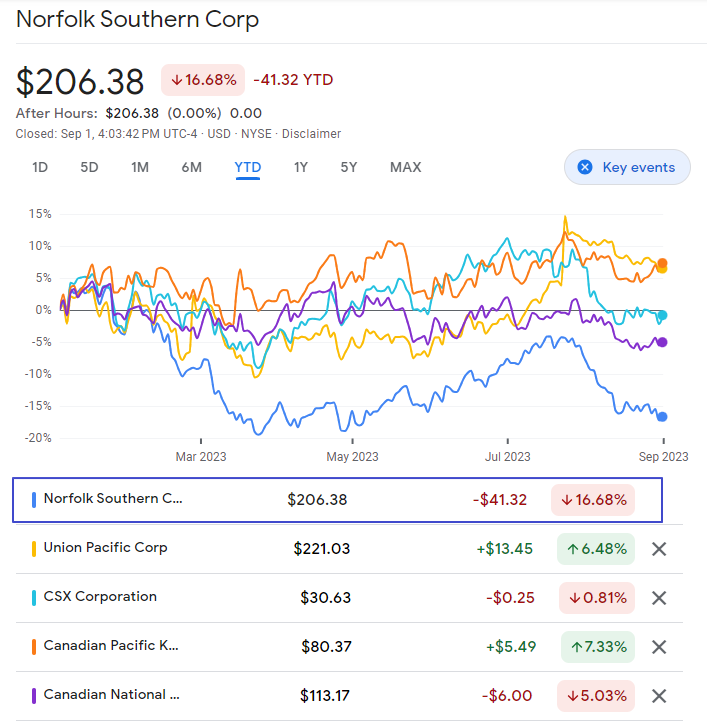 Note: Returns shown above are price returns excluding dividends
Source: Google Finance
Investors willing to wait out 5 years or more can consider adding Norfolk in a phased approach at current and lower levels.
Related Stocks:
Disclosure: Long CNI, CSX, NSC and UNP