Global equity markets have been volatile this year with most being mostly down. In the commodity markets, its been a similar story with some shining while others falling year-to-date. For example, energy- related commodities such as crude oil, natural gas and coal have been big winners. Even Uranium had one of the best years. The Russian invasion of Ukraine lit a fire under fertilizer ingredient potash leading to a 14-year peak. Growing adoption of EV vehicles by consumers have led to soaring demand for Lithium which is used in making the batteries. By October, Lithium prices have doubled this year. Gold prices have been stagnant to down though it is considered as a safe haven asset during adverse market conditions for equities. Gold prices started the year at over $1,805 per ounce and closed at $1,751 recently.
With that brief intro, let's take a quick look at the Top 50 biggest mining companies in the world according to a report by Mining.com:
Click to enlarge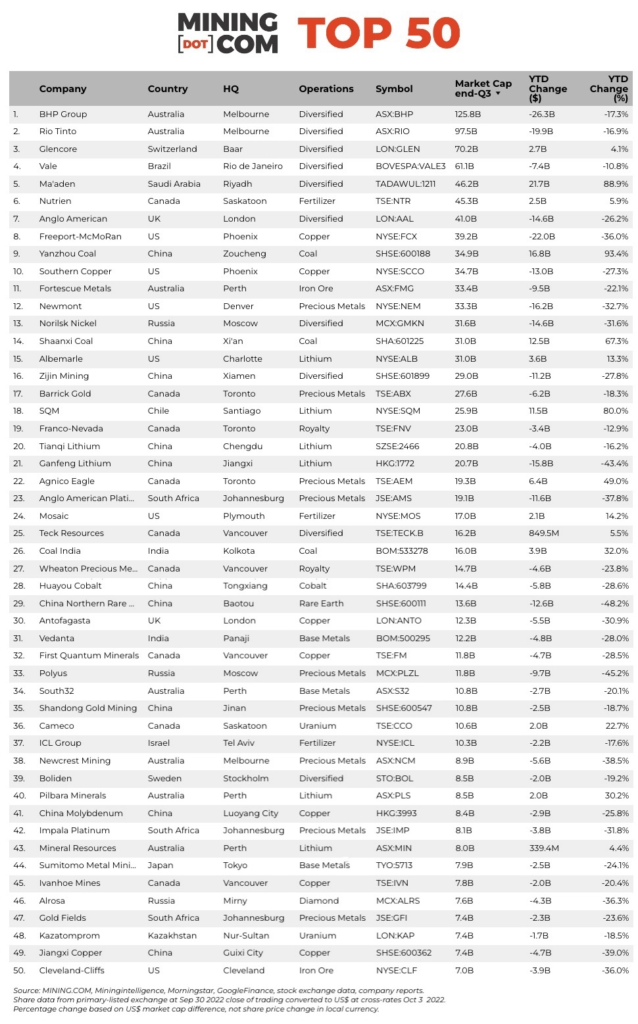 *NOTES:
Source: MINING.COM, Miningintelligence, Morningstar, GoogleFinance, company reports. Trading data from primary-listed exchange at September 30, 2022 where applicable, currency cross-rates October 3, 2022.
Percentage change based on US$ market cap difference, not share price change in local currency.
Market capitalization calculated at primary exchange from total shares outstanding, not only free-floating shares.
Source: The top 50 biggest mining companies in the world, Mining.com
The biggest mining company world based on market cap at the end of Q3, 2022 is BHP Group (BHP) of Australia. The ADR trading on the NYSE is up by 11% YTD. Rio Tinto (RIO) is the second biggest firm and its ADR is down by 1% so far this year.
A few other observations from the report:
Vanvouver, Canada- based Teck Resources Ltd (TECK) has benefitted from its exposure to Canadian oil sands and coal.
Coal companies like Shaanxi Coal, Yanzhou Coal and India's Coal India have had a great run this year.
Lithium producer Sociedad Quimica y Minera de Chile (SQM) has shot up over 82% YTD due to a 10-fold increase in profits and US-based Albemarle Corporation (ALB) has also increased by 15% YTD.
Disclosure: No positions