The automotive industry is one of the largest industries in the UK providing jobs to hundreds of thousands of workers and involving billions of pounds in economic activity. At the end o 2019, there were 7 major luxury and sports car manufacturers in the country. Some of the top British brands include Aston Martin, Bentley, Land Rover and Jaguar (part of India's Tata Motors), Lotus, McLaren and Mini and Rolls Royce(owned by Germany's BMW Group). From the size perspective, the UK auto industry is small relative to the US auto industry. But still there are over 800 companies operating in the country.
Click to enlarge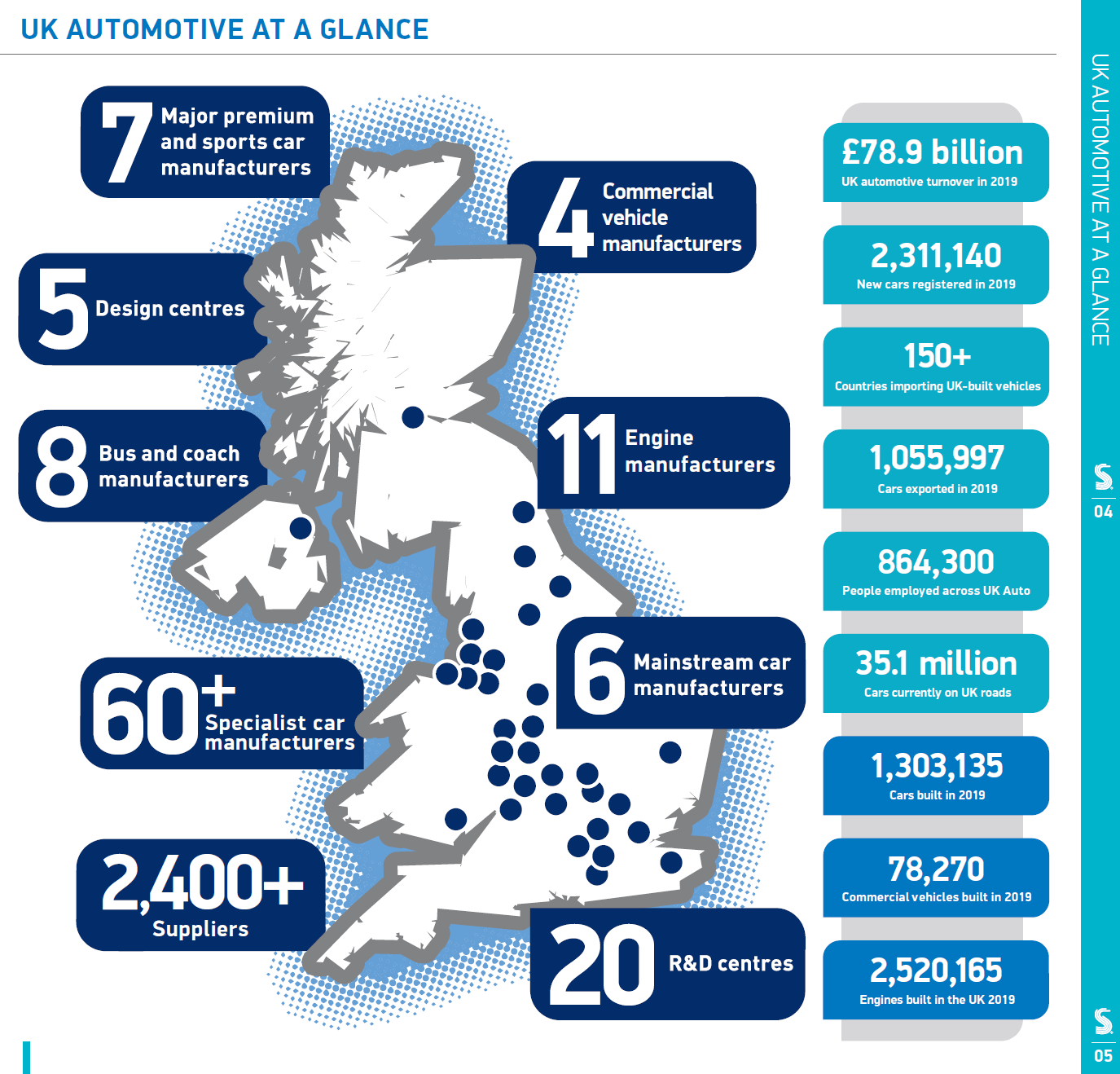 Source: The Society of Motor Manufacturers and Traders (SMMT)
The following are ten interesting facts about the auto industry in the UK:
In 2019, auto products exports accounted for 13% of total UK's goods exports.
The top five models by production are Jaguar Land Rover, Nissan, Mini, Toyota and Honda.
A total of 1.30 million cars were produced out of which 81% were exported.
The top export markets are the EU, USA, China, Canada and Japan.
The UK auto industry output is small when compared to other countries. UK ranked 16th well behind countries like Canada, India, South Korea, Germany, etc.
The UK is also home to more than 2,400 auto parts suppliers.
Commercial vehicles such as buses, trucks and vans are also manufactured in the UK though their numbers are smaller relative to autos.
The sector generated about £100.0 billon in trade in 2019.
On a given day, over 1,100 trucks from the EU deliver components to auto plants in the country.
The top color chosen by British consumer is gray followed by black, white, blue and red.
Source: Motor Industry Facts 2020, SMMT
Referenced Companies:
Disclosure: No positions