I have written many times before that the best way to profit from the automotive industry is not invest in the car manufacturers themselves but in the part suppliers. Aftermarket parts companies flourish during boom and bust cycles of the economy. Currently the chip supply issue is severely affecting the new auto sales market. In addition, prices of used autos have sored as well. Consumers are holding their autos much longer than usual with the average age exceeding twelve years.
The loosening of new car supply is projected to take many months. Hence the demand for auto parts should continue to remain strong for the foreseeable future. Investors looking to benefit from this situation can consider adding some of the top auto parts makers. The following chart shows the Top Auto Aftermarket Companies in 2020:
Click to enlarge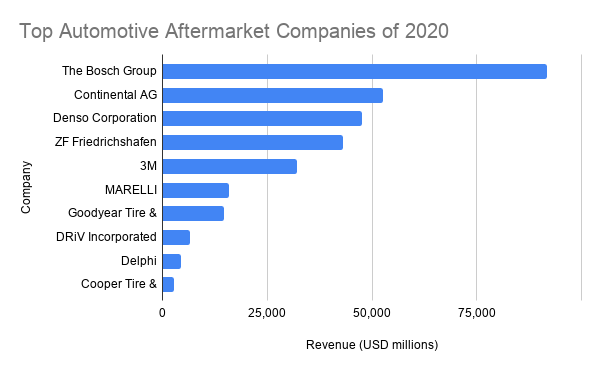 Source: Bizvibe
Three of the top five firms – The Bosch Group, Continental AG(CTTAY) and ZF Friedrichshafen AG -listed above from Germany. Goodyear Tire & Rubber Company(GT), DRiV Incorporated (Tenneco), BorgWarner(BWA) and Cooper Tire & Rubber Company(CTB) are some of the best American auto parts makers.
Disclosure: Long CTTAY
Related: